Adjusting general plan of Ha Long city to 2040, vision to 2050
Monday, June 10,2019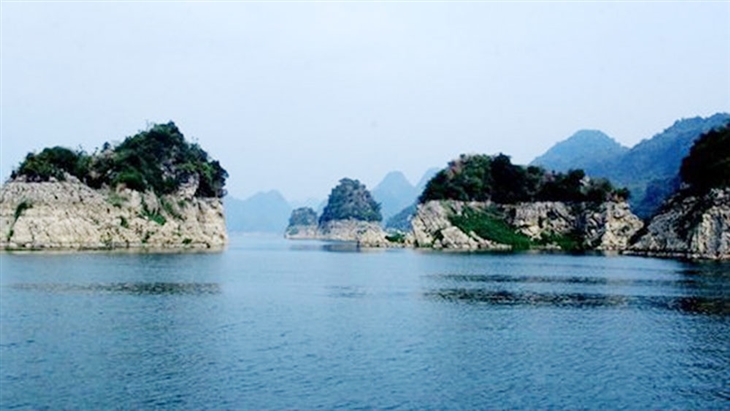 AsemconnectVietnam - To build and develop Ha Long city into a civilized and friendly sea-tourist city, a center of international-level tourist-service and tourist services, a comprehensive socio-economic infrastructure system, modern nature associated with preserving and promoting the World Natural Heritage Ha Long Bay
1. Scope, boundaries and scale of research:
- Scope of direct research: within administrative boundaries of Ha Long city, with an area of ​​27,753.91 ha.
- The indirect research area includes the districts of Hoanh Bo (04 communes in the south of Hoanh Bo district) and Quang Yen towns (02 wards and communes).
2. The planning time limit
- The short-term up to 2030.
- The long-term up to 2040.
3. Planning objectives
- Raising the role of Ha Long city in particular and Quang Ninh province in general and in the region. To develop Ha Long city towards sustainable development in line with the requirements of green growth and adaptation to climate change.
- To build and develop Ha Long city into a civilized and friendly sea-tourist city, a center of international-level tourist-service and tourist services, a comprehensive socio-economic infrastructure system, modern nature associated with preserving and promoting the World Natural Heritage Ha Long Bay.
- Building a modern and synchronous system of technical infrastructure and urban social infrastructure; To play the role of a nucleus, an important traffic hub of the whole country, the main gate to the sea of ​​the northern provinces.
- To serve as a basis for management of planning and policy development for Ha Long city and to continue the preparation of investment in urban construction according to the planning.
4. Urban character
It is a national service-tourism urban area with an international dimension in association with the world natural heritage of Ha Long Bay; is a regional city, economic center, seaport, industry; the dynamic center of the northern key economic region, the northern coastal economic belt and the northern coastal region; It is the center of administrative, cultural, social, scientific and technical, education and training of Quang Ninh province; play the role of promoting the socio-economic development of the Northeast; It has an important position on national security and defense; It is a city developed in the model of urban smart, green cities, sustainable development adapt to climate change.
5. Preliminary development forecasts
- On the population development forecast
Population to 2017: about 384,000 people;
The population to 2030: about 570,000 - 600,000 people;
It is expected that by 2040, about 720,000 - 810,000 people.
- On the criteria of land use:
Residential land: about 110 - 130 m2 of people;
Urban public land: about 5-7 m2 of people;
Land for trees, urban sports: about 7-15 m2;
Land for new development: about 40 - 50 m2 of people; Regarding urban areas for tourism, ecology, convalescence, etc., depending on the specific characteristics, it is possible to apply the unit land index at higher levels. well suited.
(Forecast of land size and population will be specified in the process of studying and adjusting the planning).
- Economic and technical standards applied to urban development in principle based on urban standards of type I. Encourage the application of appropriate international standards and standards in the study of blueprints. The premise for building Ha Long city is smart urban, green city (specific targets will be defined in the study period adjusting general planning).
6. The research requirements in the content of the general planning adjustment of Ha Long city
- To review the overall contents of the approved master plan in 2013 and the actual situation of urban development in Ha Long city following the orientation in strategic planning of Quang Ninh province.
- Research and evaluation of the strategic planning directions of Quang Ninh province have been prepared and approved; To review the development orientation of urban areas, urban development land funds, land use planning, the size of functional areas, evaluate the suitability with the trend and development opportunities of the city. Ha Long Street.
- Forecast development needs in the new phase, in the context of the development of Quang Ninh province, seize new development opportunities. Development orientation needs to be harmonized with the need to preserve and promote the value of Ha Long Bay World Natural Heritage in the direction of sustainability, cultural relics, tourism resources of the city and environmental protection. school in the area.
- Proposing strategic solutions to overcome shortcomings in technical infrastructure overload, traffic congestion, development of high quality socio-economic infrastructure, environmental issues, adaptation to climate change.
- To propose specific measures on control of the development of urban space, high-rises, public spaces for urban inhabitants and tourists, investment in social infrastructure systems in the direction high quality and modern.
- To study and propose solutions on technical infrastructure such as the connection of highways and highways; To determine the direction of high-speed railways, national railways, urban railway lines, sea transport routes (ports, wharves, accommodation establishments, tourist services ...) connected with travel services in Ha Long Bay; To develop inter-regional liaison systems such as clean water supply, electricity supply, communication, waste water treatment, solid waste and environmental protection.
- Researching and proposing areas to create architectural highlights to create a unique identity for Ha Long city, on the principle of preserving and promoting the heritage values ​​of Ha Long Bay. Proposing management regulations and guiding the development control, which will serve as the basis for elaborating the regulations on management of architectural planning in the city in the direction of flexibility in each period, Urban development, gradually build the image typical of urban planning architecture Ha Long.
7. Requirements on the contents of the dossier on adjustment of the general planning of Ha Long city
a) Analysis of the status and context of regional development
To analyze the role and position of Ha Long city in relation to Quang Ninh province, the northern key economic region and the northern coastal economic belt. Assessing the potentials and development motives, the long history of culture, the spearhead economic sectors, the spillover facilitating the development and attractiveness of Ha Long city.
b) Assessment of current status
- Analysis and assessment of natural features of topography, climate, hydrology, geology ..., characteristics of ecological landscapes, natural resources, tourism resources in Ha Long city and areas. The access to the development of Ha Long city. Detailed evaluation of land fund construction on the basis of convenient construction, unfavorable zoning and construction ban.
- Assessment of the socio-economic development situation: Current status of development of key sectors: tourism, trade, services, industry, handicraft ...
- The current status of population, labor and employment: Statistics on population, labor, occupational structure, population and labor (5 latest years); analyzing trends in population growth, population distribution (urban-rural), epidemic phenomena, urbanization problems.
- Assessment of current land use and landscape space: Current status of land use in the planning area; Analysis and assessment of land use efficiency and existing problems of land use and spatial landscapes to be addressed to meet the development requirements.
- Assessment of current status of socio-economic infrastructure system: current situation of development of social infrastructure system in the area. Identify remaining issues of social infrastructure to meet urban standards of type I.
- Assessment of current status of technical and environmental infrastructure system within the framework of planning study. Identify remaining issues of urban technical infrastructure to meet urban standards of type I.
- Reviewing related programs, projects, plans and implementation of the Master Plan 2013.
c) Development model, spatial orientation of landscape architecture and urban urban design
- Determine the vision of Ha Long City until 2050, in accordance with the existing conditions of the city to achieve in the long term is a smart urban.
- Determining the economic and technical norms related to the construction and use of land in each area.
- Development orientation of landscape architecture and urban design:
Analysis and evaluation of urban development models; To select sustainable urban development plans to ensure maximum utilization of the advantages and functional space;
Determining the scope and scale of functional quarters of an urban center. Identification and distribution of housing units; health systems and public works; trade-service system; the system of green parks, physical training and sports; industrial parks, tourist areas, cottage industries, cottages, warehouses and yards; the administrative areas, professional schools ... and other special functional areas. Identification of architectural areas and landscapes in urban centers;
Urban Design: Identify architectural areas, landscapes, central areas, urban gateways, major spatial axes, large squares, green spaces - water surfaces, landmarks in the city. To propose principles and requirements for spatial and architectural organization of existing urban and expanded areas; landscape protection, the space of Ha Long Bay.
d) Land use planning in stages
Defining functional areas; Determining indicators on population density and criteria for using urban planning land; Orientation and development principles for each functional area; To propose land use plans suitable to each stage of development; Determining the land fund to be proposed for urban development, boundary of urban areas.
e / Planning the technical infrastructure system
- Technical preparation: Proposed solutions for high ground and drainage of bile water for urban and other construction areas; To ensure the safety of floods and floods; prevention of natural disasters ... in response to climate change, sea level rise. Proposing solutions for anti-erosion embankments, especially the locations of encroachment areas, mining sites and hills. Zoning of areas restricted or restricted construction due to geological and topographic structure, due to the risk of flash flood.
- Transportation: Organization of transportation network including external transportation, urban transportation and waterway transport, provincial transport system in urban development, classification of urban transport routes and classification. Design solutions for internal transport network. Proposing the network and public transport development support works in urban areas as well as connecting with other municipalities and neighborhoods. Determining the location of the scale and number of traffic works.
- Water supply: Analyze the groundwater and surface water resources of the area to propose water supply solutions (water source selection) and water source protection. Determining the standards and demands for water in production, daily life, expected sources, key works, water supply pipelines, fire fighting water supply and technical parameters.
- Electricity supply, lighting: Determining standards and demands for electricity; power source selection; To propose solutions to the design of the power supply network, the projected focal works for each planning stage. Calculate demand and propose solutions for smart lighting. Proposals for exploitation and use of other energy sources (if any).
- Communication: Oriented planning of the passive telecommunication infrastructure system, focal projects are planned in each planning stage and synchronous transmission network in the direction of common use of infrastructure. To expand the public telecommunications system to meet the demand for socio-economic development and urban development according to the intelligent urban model.
- Waste water drainage, solid waste collection and treatment, cemeteries: Determination of criteria and forecasts on volumes of waste water and solid waste, demands for cemetery land. Orientation of waste and solid waste collection and treatment system; cemetery and funeral home in the city.
e) Strategic Environmental Assessment
Forecasting and proposing measures to prevent, mitigate and cope with natural disasters based on the latest national climate change and sea level rise scenarios and specific researches for Ha Long city.
- Forecast environmental impacts from residential development, agriculture, forestry and aquaculture, transport, industry, mineral exploitation, port. Solutions to environmental problems still exist in the planning project. Identification of measures to prevent, minimize impacts, and monitor and supervise the environment.
g) Identification of priority investment programs and projects in line with the forecast of resources for implementation.
h / The draft regulation on management according to the plan.
8. Product records:
The composition and contents of the project shall comply with Decree No.
37/2010/NĐ-CP
of the Government on the appraisal, approval and management of urban planning and the current provisions of law.
9. Organization of implementation
- Approval level: Prime Minister.
- Appraisal Agency: Ministry of Construction.
- Organization for approval: The People's Committee of Quang Ninh province.
- The planning-organizing agency: The People's Committee of Ha Long city;
- Completion time: Not more than 12 months from the approved planning task.
Long Giang
Source: Vitic/ thuvienphapluat.vn