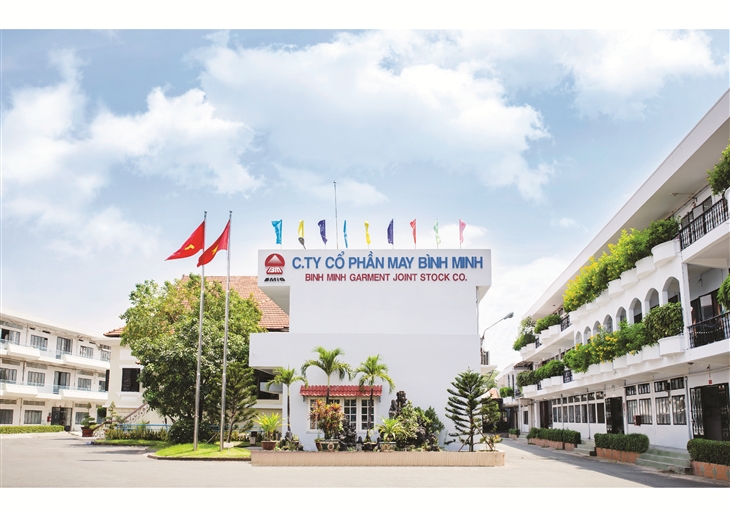 Branch domestic: GENDAI - (about men's shirt)
(BMiG) is expertise garment manufacturer since 1977 in Vietnam.
The company owns over 2,800 Sewing machines and other machines, over 42,000 m2 Production area, and about 2,500 Employees, including over 200 Professional staff in specializing in designing, quality controls and sales etc.
Particularly good at production is Shirt, according to Japanese technology and standard. Besider that, we made Polo, T-shirt, Jacket, Pants, Yoga wear, etc,. The products are exported to market: Japan (70%), USA (25%) and EU, others (5%).
To ensure the product are safe, healthy and in good quality, we have gained the certificate of ISO 9001:2015, SA 8000:2008 and WRAP.
Therefore, we have confidence to complete your order with good quality, on-time delivery, expertise service.
Welcome friends over the world come to visit, guidance and business negotiation.
2/ HEADQUATERS & FACTORIES:
Head office
· Thanh Phat Factory : 8,000 sqm , 5 lines , 400 workers and 500 sets of machines
Special for men's shirt to Japan market.
Capacity: 700,000 PCS/Year.
· Thien Duc Factory : 6,000 sqm , 6 lines , 300 workers and 400 sets of machines
Special for Sport wear, knit items such as polo shirt, T-shirt to Japan/USA market.
Capacity: 700,000 PCS /Year.
· Minh Quan Factory : 3,000 sqm, 5 lines , 200 workers and 250 sets of machines
Special for Sport wear, T-shirt and Polo Shirt to Japan / USA market.
Capacity: 500,000 PCS/Year.
· Embroidery workshop: by 400 sqm, 23 workers and 2 sets of Tajama computer embroidery machines with 40 heads and 7 heat
pressing machines.
Binh Duong Branch: B Zone Factory:
- Address: Industrial Zone B- Binh An Garment And Textile Industrial Zone, Binh Thang, Di An Commune, Binh Duong Province, Vietnam.
- Contruction 10,000 sqm, 4 lines with 200 workers and 300 sets of machines.
- Special for both knit items and woven items to USA, EU and Japan market.
- Capacity: 500,000 PCS/Year.
Hai Phong Branch: Minh Hai Factory
- Address: Village 3, Commune Co Am, Vinh Bao District, Hai Phong City, Vietnam.
- Contruction 5,000 spm, 6 lines with 400 workers and 450 sets of machines.
- Special for Tshirt; Polo shirt: Knit shirt/ Woven shirt to JAPAN and USA market.
- Capacity: 700,000 PCS/Year.
Ha Noi Branch: Minh Ha Factory
- Address: Den Village, Di Trach Commune, Hoai Duc District, Ha Noi City, Vietnam.
- Contruction 10,000 sqm, 18 lines, 800 workers and 900 sets of machines.
- Special for Pant; Knit wear to EU; USA; JAPAN market.
- Capacity: 2,500,000 PCS/Year
3/ MAJOR BUSINESS ENTERPRISES
Manufacturing apparel, trading of textile and garment products, materials, machinery, equipment, parts, accessories and components in the garment industry.
4/ ACHIEVEMENTS
1986: Third-class Labour Medal
1988: Second-class Labour Medal
1995: First-class Labour Medal
2007: Third-class Independence Medal
2008: "Prestigious Export Enterprise" from the Ministry of Commerce
2013: Typical Brand Index – GCI VietNamBusiness Council
2016: TOP BRANDS 2016
2016: Quality Business QMix 100:2016
5/ VISION, MISSION AND CORE VALUE
Vision:
BMiG strives for sustainable development, to became a competitive enterprise in the garment and textile industry as well as fashion products. With endless creativity, professionalism and utmost efforts, the company would ensure customers' and business partners' satisfaction. All members of BMiG would have equal chances and conditions to nurture their talents, passions to build a better life.
Mission:
BMiG tries to continue to be Vietnam's top enterprise in the garment and textile industry. The company would provide customers with products that reach international quality standards, raising living standards for all customers. Gendai products would be more and more developed and gain Vietnamese's recognition in to further promote the products to other markets such as Japan, Europe, America,etc.
Core Value:
Customers' benefits: all activities are for the sake of the company's customers. Customer satisfaction marks the company's success. Motto: United, active, creative, professional, conscientious, modern, sharing and responsible to the society. Policies to improve labor creativity: Workers have the rights to strive for quality in their work and the rights to receive what well suits their efforts, the results of their efforts.
6/ BUYERS AND BRANDS LABEL
BUYERS
Japan

: ITOCHU, KURARAY, MITSUBISHI, KURABO, BAVINA, OGITA HEM, TOYOSHIMA, TAMURAKOMA, TEIJIN, etc

Taiwan

: TAH SHIN, PENGUIN etc

HongKong

: SHINY PERFECT, PROMINENT HK,

FORWARD APPAREL

, etc

Korea

: VAULT.
BRANDS LABEL
ASICS, B-THREE, OAKLEY, SSK, ZETT, HYMARAYA, MONTBELL, YONEX, LE COQ, AVIS, REWARD, WILSON, YAMASHINA, OZAKI, UNY, UMBRO, DESCENTE, MARMOT, APRON, FILA, MIZUNO, I-SHIRT, ORIHICA, McGREGOR, EDIDIE BAUER, KENT, MARIO VALENTINO, GREENLABEL RELAXING, COLUMBIA, JC PENNY, NAUTICA, AMERICAN EAGLE, ALO, EMS, CHARLE RIVER ,etc
---