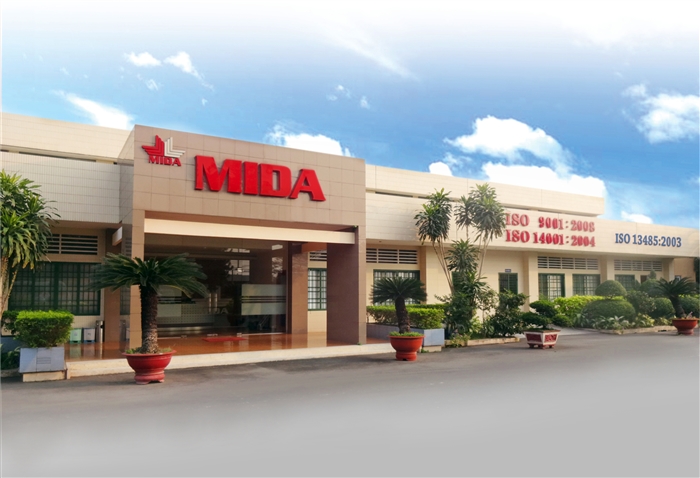 MIDA Precision Mold Co.,Ltd
Welcome to MIDA, a professional injection mold manufacturer, a leading precision plastic mould - plastics manufacturer in Vietnam.
MIDA has been established since Oct-2005, based in Long-An province of Vietnam with the area of 25.000m2.
MIDA Precision Mold Co., Ltd. are professional injection mold manufacturer, plastic molding, plastics manufacturer in Vietnam. MIDA products are high precision molds and high quality plastics.
Products: Injection molds, double color injection molds, Plastic molding, double color plastic molding, Medical Plastics, Electronic Plastics, Technical Plastics, Precision Plastics, Cosmetic Plastics, Interior Exterior Plastics, Automobile Plastics, Connector.
MIDA is currently exporting to Japan, North America & EU markets for the international clients like: Schneider Electrics, Amphenol, Furukawa, Canon & Simport Scientific...
For commitment in providing high quality products to our customers, MIDA has set up an efficient quality & environment management system from beginning and been certified by Bureau Veritas on ISO 9001:2008, ISO 14001:2004 and ISO 13485:2003.
We can provide our customers a perfect solution from designing products and molds, manufacturing, decorating, packaging to delivering products.
Continuous improvement has no finish line at MIDA to get results of:
• Satisfied products to customers,
• Fastest delivery,
• Most competitive price,
• The best after sale service.
MIDA invested equipment system for making precision moulds and modern plastic injection molding machines included full automatic arm robots from leading brand names in Japan, Swiss as: Makino, Mazak, Charmilles, Okamoto, Mitutoyo, Fanuc, Sumitomo, JSW, Yushin, ....
---