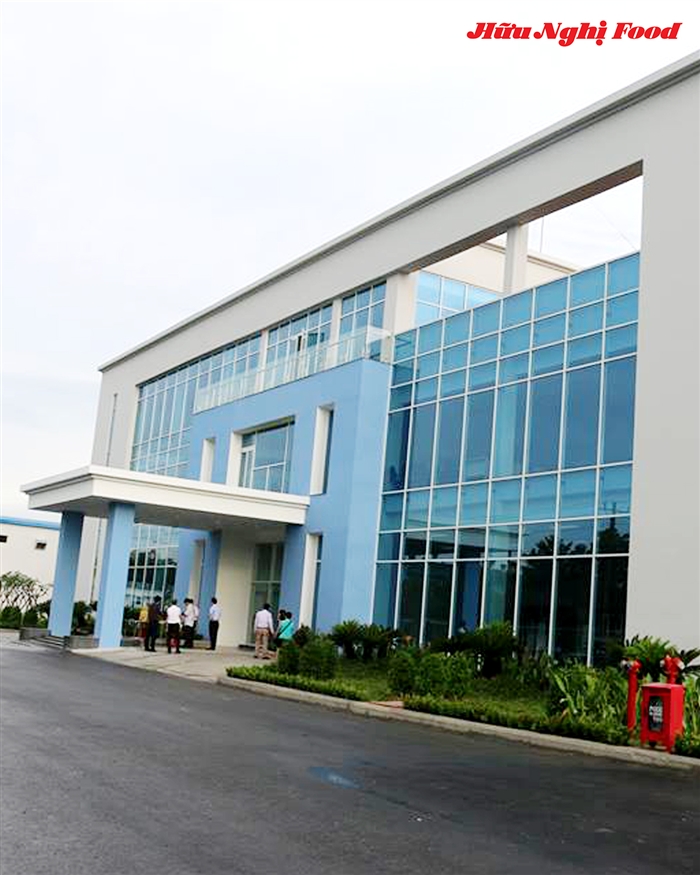 INTRODUCTION
HISTORY
Huunghi Food Joint Stock Company (HUUNGHIFOOD), formerly known as Huu Nghi high quality confectionery factory belonging to Northern Food Company, was established in the end of the 1990s. With the development and expansion of the scale as well as lines of business, the company has experienced two name changes as Huunghi Premium Confectionery Joint Stock Company in 2006 and Huunghi Food Joint Stock Company in 2009. Currently, HUUNGHIFOOD is a subsidiary of Vietnam National Tobacco Corporation (VINATABA). The company is headquartered at 122 Dinh Cong, Hoang Mai, Hanoi.
SCALE
HUUNGHIFOOD has 2 branches, 3 factories in Hanoi, Ha Nam, Binh Duong and stably strong domestic distribution network with hundreds distributors, more than 200,000 retail outlets across the country. HUUNGHIFOOD's products include many kinds of confectionery such as Tipo Cream Egg Cookies, Kexo wafer, Bolero, Salsa Cream Layer cake, Arita Cream Cracker; Suri and Joli soft candies, moon cake, fresh cakes, jam, processed foods.
BUSINESS ACTIVITIES
HUUNGHIFOOD is now one of the most prestigious companies specializing in manufacturing and trading all kinds of cakes, confectionery and foodstuffs in Vietnam
· MANUFACTURING
Consistent with differentiated strategies in order to survive and grow in a sustainable way, HUUNGHIFOOD has been learning and researching new production technologies, separate and distinctive products.
To ensure the health of the consumers, all raw materials of HUUNGHIFOOD's products are strictly checked. The main raw materials for the production of confectionery such as milk, wheat flour, butter, palm oil, sugar are imported from foreign countries such as America, Australia, New Zealand, Malaysia, Thailand. Products are manufactured on the production line from Germany, Italy, Japan, Taiwan, and China under the strict quality control complying with the international standards about production management of ISO 22000:2005 and food safety management of HACCP – code 2003. It can be affirmed that HUUNGHIFOOD's products not only bring the nutritional value, safety, utility, convenience for the community but also meet and maintain a friendly relationship with the environment. All the manufacturing plants have professional waste and wastewater treatment systems to ensure compliance with the regulations of state agencies.
· EXPORT MARKET
HUUNGHIFOOD's products have been exported to many countries around the world such as China, North Korea , Taiwan, Thailand, Singapore, Indonesia, Philippines , South Korea, Japan, Hong Kong, Myanmar, Australia etc… with the export strategy orients to the Asia - Pacific market in the future.
AWARDS
With the excellent performance achieved in production and business, HUUNGHIFOOD is among the few food companies in Vietnam owning numerous awards and honors such as Gold Medal Title EXPO fair from 1999 to 2006, Title of Vietnam High Quality Goods in the years 2000 - 2005, 2009, 2010, 2011, Golden Brand in 2008 and so on.
VISION
The company's competitiveness increases more and more through meeting the stringent requirements on food safety and production of sophisticated markets such as certificates of Administration Food and Drug Administration (FDA ) - American, Halal certificates of Islamic countries, regulations on food hygiene and labeling of Japan. With a strong and wide coverage distribution network, HUUNGHIFOOD forwards to building a close relationship with all partners all over the world and becoming a leading enterprise in Vietnam and ASEAN in the field of confectionery in vision 2020.
---