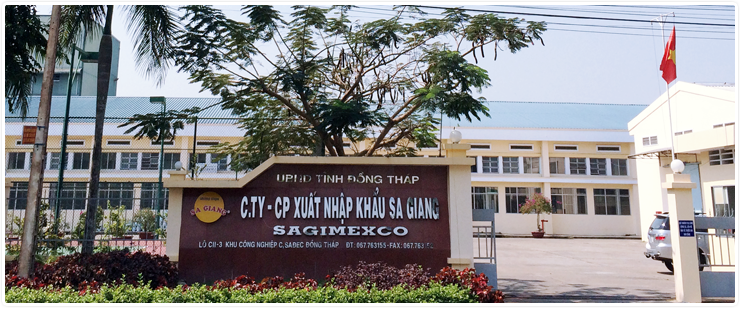 Nowadays "unsafe foods" is the hottest problem that all of us concern and complaint about. Few traders are blinded by super profits, so we can say we are being killed by ourselves day after day. Many kinds of delicious dishes, fresh fruits always catch our eyes, with the eating habit "delicious-healthy-cheap" Vietnamese is forgetting about food safety and hygiene requirements. Do we worry when we cannot figure out which foods are safe or not.
Considering this matter very soon, from established in 1960s, Sa Giang always aims to the mission: to bring consumers not only "clean", safe but also healthy and delicious products, be trustable food company for everyone to find.
Not on the paper, we tried our best to prove it, Sa Giang had researched and faced with many difficulties when applied food safety program HACCP (Hazard Analysis and Critical Control Points) in our production since 1990s. This certificate could be represented "a ticket" to import foods in Europe that time.
Which companies could think and implement like that was innovative or maybe strange to others. However, with determined efforts, Sa Giang has succeeded. In July 1997, Sa Giang became one of the first 18 Vietnamese companies were issued EU code to export to Europe where had strictest foods regulations.
This joy brings Sa Giang the courage to apply and succeed more food programs such as FDA, HALAL, ISO, BRC… in factories and products.
Sa Giang hope when choosing Vietnamese goods, Vietnamese always satisfied and trust in Vietnamese goods quality and Sa Giang products also.
In supports of our valued customers, Sa Giang has built and developed 4 factories, total capacity over 8,000 tons per year, including 2 factories for shrimp chips, one for products from rice, and one for bottled drinking water and products from meat. We open over 400 jobs for local people. Our revenue has reach 200 million dong per year.
As a key enterprise of Dong Thap Province, conscious of the responsibility for maintaining and developing traditional specialty "shrimp chips", Sa Giang always research to diverse not only consumers choices but also bring our products closer to consumers.
Currently, Sa Giang has developed four product lines such as:
All types of chips: shrimp chips, crab chips, cuttlefish chips, vegetable chips…
. Products from rice: rice noodles, rice stick, rice vermicelli, brown rice vermicelli…
. Products from meat: pork bologna.
. Bottled drinking water.

Though we have many products but they cannot cover the local market, it's big challenge of Sagiang to compete with unsafe foods today.
Distribution systems are also gradually formed from North to South. Sa Giang products also appear in supermarkets and convenience stores such as Coop mart, Big C, Metro, Vins'mart, Aeon Mall, ...

Regarding foreign markets, Sa Giang have exported more than 40 countries worldwide, mainly in Europe and Asia ...
To maintain goals, the vision in the next 10 years Sagiang will diverse commodities, improve usability even further to better fit today's modern life. Also extend distribution system widely to consumers.

Sa Giang would like to thank all customers who have trusted and supported us such a long time. We hope everyone will support and accompany with Sa Giang to contribute to the development of Vietnamese goods, sustainable and foods must be "clean".
---