Gold prices likely to rise by year-end: analysts
Monday, December 3,2018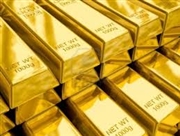 AsemconnectVietnam - In recent days, buyers have been accounting for 80 per cent of all customers at Bao Tin Minh Chau Jewellery and Gemstone Company, one of Viet Nam's biggest gold trading companies.
Market observers said the sharp increase in the number of buyers was because many people believed gold prices would harden at the end of the year and hoped to make a quick profit.
Representatives of gold trading companies said this was the best time to buy gold.

Global gold prices have been falling for months especially with the relentless appreciation of the US dollar. Gold and the greenback traditionally have an inverse correlation.
However, the recent economic and political instability around the world could put paid to this, and the precious metal could resume its role as a safe haven, which would cause its price to rise strongly, the representatives said.

Many analysts concurred saying there were many factors that could push gold prices up in the near future, like the rise in oil prices and global sell-off in stocks.
According to The Week, the price of oil has been on a roller-coaster ride for the past few years, plummeting to its 2014 peak before making a steady recovery in recent months – all with huge consequences for the global economy.

The price has increased over 20 per cent this year, "in part as trade tensions between the United States and China have heated up, but also as looming sanctions on Iran have already started to curtail flows of oil from the country."
There is a shift in investment from stocks to gold to hedge risks and to profit as the metal starts recovering.

On October 27, the buying and selling prices of gold at the Doji Gold and Jewellery Corporation were VND36.5 million (US$1,560) and VND36.6 million per tael (37.5gm) respectively, up VND40,000 ($1.7) from the previous week.
A tael at the Sai Gon Gold and Jewellery Corporation was priced at VND36.49 million and VND36.63 million, up VND50,000.
Yet some analysts warned that despite the positive factors supporting gold prices such as the US–China trade war and the increase in the oil prices, people should be careful.
Since the US dollar showed no signs of weakness, gold prices this year could as easily go down as up, and so investing in the metal could be risky, they said.

Refineries set for intense competition as import tax tumbles
Viet Nam's Nghi Son Refinery and Petrochemical Co in which state-owned Kuwait Petroleum Corp and Japan's Idemitsu Kosan Co each own 35.1 per cent, plans to begin commercial operations by November15.
The facility in Thanh Hoa Province reached its installed capacity of 200,000 barrels of crude a day in September, after which it would complete the performance tests and documentation needed to operate commercially, its general director Shintaro Ishida told Bloomberg.

It will supply 2.3 million tonnes of petrol and 3.7 million tonnes of diesel annually.
A Bloomberg report said the $9 billion plant would enable Viet Nam to cut diesel and gasoline imports from neighbouring countries.
The plant also successfully produced 5,000cu.m of diesel oil (DO) meeting all specifications and sold it in the domestic market.
The plant will also produce LPG, kerosene/jet fuel, polypropylene, paraxylene, benzene and sulphur products.
Market observers said the plant would take domestic supply to around six million tonnes of petrol and seven million tonnes of DO, meeting 92 per cent and 82 per cent of demand.

Besides Nghi Son, the other sources of supply are the country's first oil refinery, Dung Quat, which has a capacity of 2.7 million tonnes of petrol and 3.1 million tonnes of DO, and the condensate plants PV Oil Phu My, Sai Gon Petro, Nam Viet Oil and Dong Phuong, which can provide 690,000 tonnes of petrol.
Construction of the $5.4 billion Long Son Petrochemicals complex began recently in Ba Ria-Vung Tau Province after a 10-year delay.

The country's third petrochemical complex will have an annual production capacity of 1.6 million tonnes of olefins and more than two million tonnes of a wide range of petrochemical products, including polyethylene, polypropylene and other polyolefin import substitutes.
It is expected to begin operations in 2022.

Meanwhile, petroleum import tariffs are decreasing because of Viet Nam's free trade agreements with several countries in recent years.
This is almost certain to increase imports, making the fuel market much more competitive.
The country now applies most favoured nation (MFN) tariff rates to imports from all WTO member countries, meaning a maximum import tax of 40 per cent on petroleum.

Under the intra-ASEAN (ATIGA Agreement), since 2012 tariffs on petrol products has been reduced to 10 per cent and oil products have gone to 0 per cent since 2016.
Under the Viet Nam-South Korea FTA, from 2016 the special preferential tariff is 10 per cent on petroleum products and 5 per cent on oil products.
The special preferential import tax rate for petroleum products committed in the agreements is gradually decreasing to zero per cent by 2024.

In January-March this year, Viet Nam's import value of oil and petroleum products increased by 37.1 per cent to $2.2 billion.
Analysts said the Vietnamese petroleum market has deeply integrated into the regional and global markets.
In this scenario, domestic suppliers of petroleum products are set to face enormous competitive pressure.

To cope, they need to improve the competitiveness of their products by modernising their technologies, which will help improve product quality and reduce costs.
Industry insiders said the Government should not license any more refineries and focus its efforts on expanding and upgrading Dung Quat.
Seeking new overseas markets to export petroleum products was an important measure the industry should consider in the near future, they said.

Banks' profits take a hit from risk provisioning
Circular 09, which took effect in 2014, requires banks to manage their debts more carefully.
It also stipulates that they make risk provisioning when they buy special bonds issued by the Viet Nam Asset Management Company against bad debts it buys.
In calculating the risk provision, credit institutions and foreign banks must periodically assess the value of relevant collateral to ensure it corresponds to the current market value, the circular says.

It is because of this that many banks have had to make large provisions for bad debts, reducing their profits substantially.
This situation has persisted in the first nine months of this year.
It is predicted that the banking sector's pre-tax profits will grow at 18.6 per cent this year, higher than 13.6 per cent as it was estimated.

The HCM City Development Joint Stock Commercial Bank (HDBank), for instance, has announced that its pre-tax profit in the first nine months of this year rose by 50.8 per cent year-on-year to nearly VND2.9 trillion ($128.2 million).
The Joint Stock Commercial Bank for Foreign Trade of Viet Nam (Vietcombank) reported that its net profit was VND16.68 trillion, up 34 per cent from the same period last year.

However, the bad debts rate has also increased at many banks.
Saigonbank is thought to have the highest bad debt ratio now, of 6.41 per cent compared to 2.98 per cent at the beginning of the year.
VPBank ranks second with its bad debts rising substantially to VND9.4 trillion.
Sai Gon Thuong Tin Commercial Joint Stock Bank (Sacombank) reported pre-tax profit in the first nine months of VND1.315 trillion, a year-on-year increase of 28 per cent.

But to cut its bad debt ratio to 3.18 per cent, the lender allocated VND664 billion for provisioning, reducing its pre-tax profit to VND649 billion.
A senior financial expert, who asked not to be named, said the banking sector's profits were rather high this year but were affected by the State Bank of Viet Nam's restriction on credit quotas and pressure from the implementation of Basel II standards.
Besides, provisioning is expected to be much higher at many banks because of a rise in new loans for real estate, he said.
Banks would not be able to lend much in the remaining months of the year, and if they want to protect their profits they would have to depend on services, he said.
Source: VNS