VN shares see slight growth on unstable sentiment
Friday, September 14,2018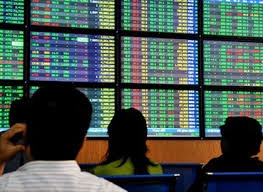 AsemconnectVietnam - Divergence of heavyweight stocks restrained stock market growth on Thursday as investor psychology was unstable and looked to earn 'quick profits'.
On the Ho Chi Minh Stock Exchange, the VN-Index inched up just 0.1 per cent to close at 987.95 points. It gained 3 per cent in the last five trading sessions.
On the Ha Noi Stock Exchange, the HNX-Index rose for a third straight day, up 0.91 per cent to end Thursday at 112.66 points.

Recent developments of local stocks were positive given widespread slumps on other Asian markets. MSCI's broad emerging markets index slipped to a 14-month low on Wednesday on speculation that trade tensions between China and the US will escalate.

On the local market, bank stocks took the lead on Thursday. Nine of 13 listed banks on the two stock exchanges gained value and only three declined.
Big gainers were small and medium banks, however, such as HDBank (HDB), up 4 per cent; Asia Commercial Bank (ACB), up 1.5 per cent and Sai Gon-Ha Noi Bank (SHB), up 1.2 per cent, while large banks increased slightly including Vietinbank (CTG), Vietcombank (VCB) and BIDV (BID), all up by less than 1 per cent.

At the other end of spectrum, many large caps lost value and weighed on the market, especially oil and gas stocks after strong growth in past sessions.
PV Gas (GAS) fell for the first time after five consecutive rising sessions, down 0.9 per cent. Petrolimex suffered the same pattern with a drop of 1.7 per cent after a 6-per-cent rise in the past five sessions.
Other losers included budget airlines Vietjet (VJC), down 1.3 per cent; Vingroup (VIC), down 1.1 per cent; and Vinamilk (VNM), Vincom Retail (VRE) and brewer Sabeco (SAB) with each falling by less than 1 per cent.

According to Ho Chi Minh Securities Co, optimistic sentiment has diminished among investors and the psychology of 'quick profit-taking' is 'in vogue". In other words, it is difficult to predict the future direction of the market at present.

Bloomberg reported US President Donald Trump proposed to have trade talks with China on September 12 (US time). However, the time for the talk remains unspecified.
"Trump's proposal has sent a positive signal… We believe the upcoming talk (if it occurs) won't entirely lift fears over the trade war," said Tran Hai Yen, a stock analyst at Bao Viet Securities Co, in a report on Thursday.

Yen predicted the market is still suffering profit-taking pressure when the VN-Index was approaching the resistance level of around 1,000 points. Investors were advised to keep portfolios at a moderate level and avoid aggressive buying.
Source: VNS