Rice exports set to go up on increasing demand
Monday, September 10,2018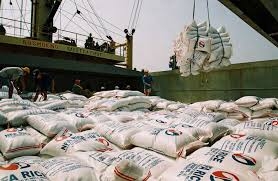 AsemconnectVietnam - Vietnam's rice exports are expected to rise in the remaining months of the year thanks to increasing demand in many markets, according to the Ministry of Agriculture and Rural Development.
Higher demand has been forecast in China, the Philippines, Indonesia, Iraq, and Southern African countries, it said.
The Philippines, for instance, plans to import 500,000 to 800,000 tonnes to supplement its depleting stocks and stabilise prices.

A new decree, which takes effect in October, is expected to remove difficulties and legal barriers faced by rice businesses in expanding exports.
Rice exporters said they are likely to see positive signs from October but also challenges.
Lam Anh Tuan, director of the Ben Tre Province-based Thinh Phat Foodstuffs Co Ltd, said if the Philippines and Indonesia buy in the near future they would buy through bids or negotiations at low prices.
Prices of certain varieties of Vietnamese rice are higher than their rivals, he said.

In addition, domestic prices usually rise sharply when there is news that Vietnam has won an export bid.
Enterprises thus face a risk if they sign export contracts without having stocks of rice, and some businesses have already incurred big losses in this manner, he said.
So authorities should be careful when negotiating rice exports since domestic prices would certainly rise
when demand rises, he said.

According to the ministry, the country exported some 441,000 tonnes worth US$209 million last month, taking total exports in the year-to-date to 4.4 million tonnes worth US$2.2 billion, up 6.8% in volume and 22.1% in value year-on-year.

The increase was due to new contracts to ship to Indonesia, the Philippines and Cuba, it said.
China remained the biggest buyer, but its imports were sharply down in both volume and value after it raised import tariffs on rice, including sticky rice.

Rice exporters have sought to increase shipments, especially of glutinous rice, to other markets to avoid too much reliance on China.

According to the Department of Crop Production, as of August 30 the Mekong Delta provinces had harvested 1.1 million hectares of summer-autumn rice out of a total of 1.6 million hectares, with the yield being 5.6 - 5.7 tonnes per hectare.
They have also begun to plant the autumn-winter crop on 475,000ha of the earmarked 745,000ha, it said.