Art show features the spirit of Vietnamese countryside
Friday, August 31,2018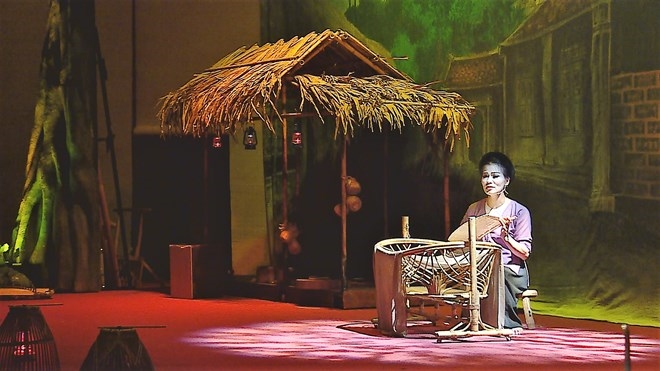 AsemconnectVietnam - When you think of musical instruments for stage productions, you do not typically conjure up cooking pots, knives or cutting boards. However, a folk show takes on these daily household items and uses them to reflect the spirit and ambience of a typical northern Vietnamese village.
The show, Tam Hon Lang Viet or "the Soul of the Vietnamese Countryside", is organised every Sunday at the Ho Chi Minh Museum in Hanoi. It vividly depicts the everyday activities of countryside people in the north, from early morning flute sounds to the noisiness of a rural evening marketplace.
The weekend show draws crowds of foreigners and locals who love to be immersed in the countryside space.
"The show helps me imagine the daily life of Vietnamese people. It is very interesting," said Pan Meijing, a Taiwanese tourist.
The folk show features performances from many renowned artists with music genres which have been recognised by UNESCO as part of the world's intangible heritage, such as "Ca tru" (Ceremonial singing), "Quan ho" (love duet singing) and "Nha nhac Cung dinh Hue" (Royal court music of the former imperial capital).
Vu Le Minh, an audience member from Hanoi, said: "I like folk music shows like this. It helps introduce Vietnamese traditional musical instruments, including the monochord to a wider audience."
Tam Hon Lang Viet has become a favourite rendezvous place for music lovers.
Source:VNA