Dong Ho folk painting expected to be revitalised
Thursday, August 2,2018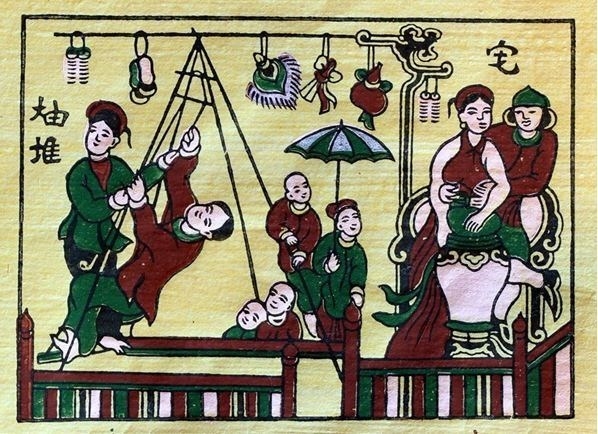 AsemconnectVietnam - More than 20 years ago, artisan Nguyen Dang Che convinced his family members to stop making votive paper and resume their old livelihood making Dong Ho folk paintings.
Che's decision was considered brave by local people as at that time Dong Ho painting had to give room to modern paintings in more and more Vietnamese homes. Che, 82, now runs an enterprise making Dong Ho paintings and earns a stable profit.

"There are many ways to make Dong Ho painting become popular products in the market," said Che. "We make notebooks and postcards out of the Dong Ho painting material. These products are souvenirs for students on birthday or special occasions."

Artisan Nguyen Dang Che (central) (Photo: VNA)
Che's family is one among the two families that still maintain the traditional craft while most villagers in Dong Ho village, Thuan Thanh district of the northern province of Bac Ninh, the home of Dong Ho folk painting now make votive paper.
Dong Ho paintings used to be essential decorations in Vietnamese houses during the traditional Lunar New Year festival. The paintings are not just decorative, they convey lessons about morality. However, after 500 years of existence, the making of the painting is now on the brink of oblivion because of low demand.

A step of making Dong Ho painting (Photo: VNA)
In an effort to save Dong Ho painting from oblivion, Bac Ninh province is seeking UNESCO recognition of the genre as intangible cultural heritage in need of urgent protection.
The proposal of the People's Committee of Bac Ninh province to compile the dossier to gain UNESCO recognition as an intangible cultural heritage in need of urgent safeguarding has been ratified by the Ministry of Culture, Sports, and Tourism.

The provincial Department of Culture, Sports and Tourism has been tasked to collaborate with related organisations to finish the dossier before it is submitted to the provincial People's Committee for approval.

A step of making Dong Ho painting (Photo: VNA)

According to Nguyen Thu Hien, deputy head of the Institute of Cultural Studies, with concrete strategies and action plans, Bac Ninh province can encourage more people to make Dong Ho paintings and help them sell their products.

The effort to secure UNESCO recognition is expected to have a significant impact on the preservation and promotion of Vietnamese traditional values as well as on improving communities' awareness about the protection of such values.

"Over the past 20 years, making Dong Ho painting is my family's key livelihood. But for us, Dong Ho painting means much more than a livelihood. It holds other greater values," said Nguyen Huu Qua, another local artisan who dedicated to the craft.