Vietnam Airlines inks deal with US Sabre innovative technology company
Thursday, February 28,2019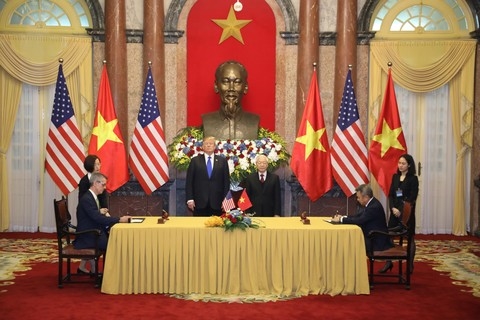 AsemconnectVietnam - National carrier Vietnam Airlines and Sabre, a leading technology provider from the US, on Wednesday signed a strategic co-operation expansion agreement on aviation technology worth US$300 million.
The deal was witnessed by Party General Secretary, President Nguyen Phu Trong and US President Donald Trump in Ha Noi.
Expanding its strategic co-operation with Sabre is part of Vietnam Airlines efforts to promote the application of information technology to its management and improve the quality of passenger services, reaching its goals to become a digital airline before 2020.
After upgrading the fleet of nearly 100 aircraft, this co-operation is a remarkable milestone for Vietnam Airlines in its process of becoming a 5-star international airline.
Along with Vietnam Airlines' existing SabreSonic booking and ticketing system, Sabre's technological solutions will contribute to improving exploitation efficiency and profitability as well as the capability of the airlines' competitiveness in the digital era.
In addition, the two sides also have a new to use Sabre's GDS global distribution system for the domestic ticketing system.
Speaking at the event, Vietnam Airlines CEO Duong Tri Thanh said that in an era of information technology playing a key role, Vietnam Airlines would not only expand its fleet and improve service quality, but also pioneer the field of aviation information technology and automation.
"By expanding its strategic co-operation with Sabre today, Vietnam Airlines will continue to maximise its ability to apply modern technology comprehensively for its governance to grow stronger towards the goal of a Skytrax 5-star international airline as well as affirming its position as a major airline in the country and the region," Thanh said.
Sabre Executive Vice President and President of Travel Solutions Dave Shrik said: "This announcement reaffirms our role as a strategic technology provider to one of the region's leading carriers, Vietnam Airlines. Over the last year, our alliance has evolved both on the content distribution and airline solutions front, and we look forward to working with the carrier to provide a holistic approach to retailing, distribution and fulfillment."
"Today's announcement demonstrates Sabre's forward-looking approach, and our ongoing commitment to Asia's continued growth and success," he added.
This announcement comes within one year after Sabre and Vietnam Airlines announcing an extended agreement for SabreSonic, Sabre's Passenger Service System valued at over $400 million, and the renewal of a long-term content distribution agreement through the Sabre Global Distribution System.
In addition to the co-operation with Sabre, Vietnam Airlines said it was focusing on improving the user experience on its website with many changes such as expanding online payment, improving the booking interface and introducing new mobile applications.
The MoU will expand the relationship between industry leaders, and further strengthen the results-driven alliance that has developed between the two corporations for more than 20 years.
Source: Bizhub.vn