PropertyGuru buys into Vietnamese real estate portal
Thursday, November 1,2018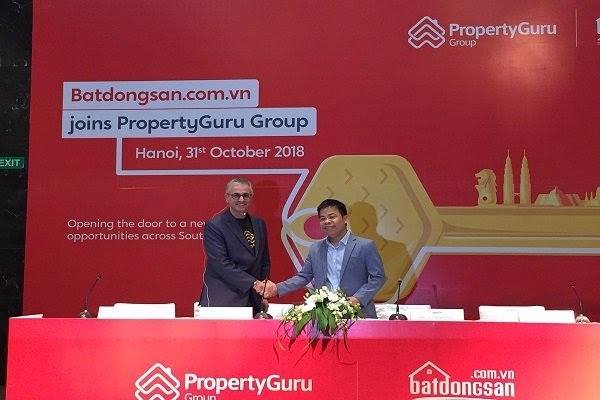 AsemconnectVietnam - Singapore-based real estate technology company PropertyGuru Group on October 31 announced it has injected investment into Vietnamese property portal Batdongsan.com.vn. With this investment, the Singaporean firm has officially become the major shareholder, taking full control of the local property site.
According to Le Xuan Truong, founder and CEO of the site Batdongsan.com.vn, said the site has become a consolidated member of the PropertyGuru Group. However, the deal value and the specific number of acquired shares remain unknown.
Under the deal, the Singaporean firm will bring more regional business opportunities to the local site as well as provide technological support. Meanwhile, Batdongsan will get easier access to the database of potential buyers in PropertyGuru's other markets---Singapore, Malaysia, Thailand and Indonesia.
Accordingly, local property seekers, investors, developers and agents are expected to benefit from the deal, said Truong.
He added that the site will be upgraded in a professional manner and feature quality content to give users access to more precise and practical property information in the coming period. Apart from that, more services and new solutions will be launched on the site to better serve real estate investors, agents and developers.
Commenting on the deal, Jeremy Williams, chief operating officer at PropertyGuru Group, said Vietnam has been hailed as one of the best destinations in Southeast Asia for property investment, adding that the local real estate market currently boasts robust growth.
Therefore, the Singaporean firm decided to invest in this market, hoping to bring regional experience to local property seekers and to help the local market reap the benefits from its integration into the ASEAN region.
Truong reportedly will continue to lead the site.
Aside from operating property channels in Singapore and Malaysia, the PropertyGuru Group is also running the site DDproperty.com based in Thailand and Rumah.com based in Indonesia. In addition, it currently holds a 55% market share in the online property sector in Southeast Asia.
As for the local real estate portal, it serves four million users, with 70 million monthly page views and some one million property-related articles being posted every month. In addition, more than 600 of its employees work in nine cities and provinces across the country.
Source: thesaigontimes.vn