Vinaseed – A leading firm in agricultural science and technology
Sunday, November 4,2018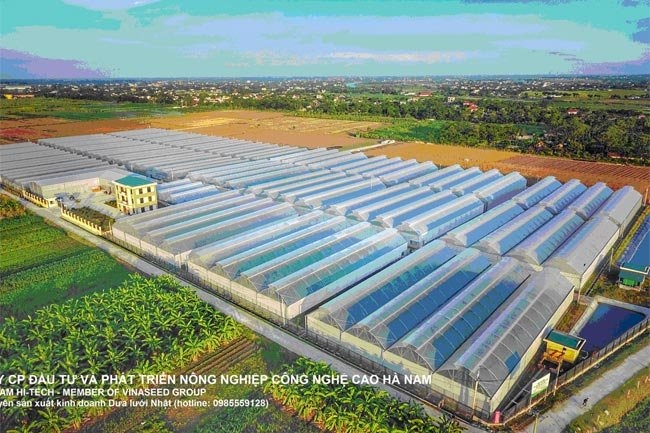 AsemconnectVietnam - As an official member of The Pan Group in 2015, after 15 years of innovation and rapid growth during the 2013-2017 period, Vietnam National Seed Joint Stock Company (Vinaseed) has become one of the largest companies by scale in Vietnam's seed sector, with its investment strategies consistently prioritizing science and technology as a foundation and motivation for development. It is also amazing to look back at its humble start of VND13.5 billion in charter capital when equitized in 2003.
Vinaseed's revenue from seed products in 2017 was VND1,500 billion, of which scientific and technological products accounted for 80%, equivalent to VND1,200 billion, while its after-tax profit was VND235 billion. In 2018, the company's target has been set to maintain an annual growth rate of 25%.
It is expected that when its five-year plan (2017-2021) ends, Vinaseed's scale will doubly increase with revenue from VND2,600 to VND3,000 billion following the strategic vision to become the leading provider of sustainable agricultural development solutions in Vietnam.
Speedy development
Recognizing the global and regional development trend along with the constant change of society's demand as well as climate change's impact on agricultural production, Vinaseed, The PAN Group's support, has determined that science and technology are the only way to enhance its competitiveness and development.
During its initial period of equitization (Stock code: NSC), the company's resources including capital, technology and manpower were obviously limited. By its core strategy "Standing on the giant's shoulders" to go faster and see further, Vinaseed has continuously concentrated on all possible social resources to exploit for co-development. This company has set up extensive cooperative ties with national research institutes, and top researchers and scientists to build the technology and international cooperation networks. The firm has also had technology transferred from state institutes to produce several types of unique rice seeds.
As a company that participates in establishing the agriculture science and technology industry from the beginning, with two research centers of agricultural technology application and transfer, Vinaseed was the first national seed company to be recognized as a science and technology company with 30% of products recognized as high scientific and technological products (March, 2011).
Starting from a model of solely trading common rice breed, Vinaseed has now become one of Vietnam's leading companies possessing a lot of scientific and technological potentials. In 2017, the company produced and supplied nearly 80,000 tons of various seeds, 20% of them F1 hybrid, earning VND1,500 billion in revenue (80% of it from copyright products, equivalent to VND1,200 billion)
The company has a diverse seed list including rice seeds, corn seeds and crossbred tropical vegetables. There are four varieties in the 10 most common rice seeds in Vietnam. Owning varied corn seeds, Vinaseed is dominating the Vietnamese food corn market with high-competitive products.
Vinaseed is a big seed exporter with average annual revenue of nearly US$5 million from F1 hybrid rice, F1 hybrid corn, Goldstar-pumpkin seeds and many types of crossbred vegetables.
In 2007, the research subject in the Technology Map and Technology Renovation route of the Vietnam rice industry conducted by Vinaseed was one of the ten symbolized Science & Technology events in Vietnam, this firm has been in the Top 50 efficient companies in Vietnam for five consecutive years (2012-2017).
Transforming into Corporate
To realize its strategic vision to become a business group providing solutions for sustainable agricultural development, Vinaseed's model is changed into that of a Group or Holding Company, expanding its business scope but retaining the core business of seed production, along with technology services and synchronous cultivation solutions as well as developing two value chains of dominant agricultural products: high quality rice for domestic demand and premium vegetables applying Industry 4.0 technology, contributing to agricultural production restructuring towards value-added enhancement.
Having had its corporate name and structure changed into a business group model is suitable for Vinaseed with its strategic vision in the new stage. Especially, the company still considers research, science and technology application and transfer as an important foundation and motivation for the company's growth. The research centers' consolidation for establishment of an institute is what makes a difference. With its financial capability and well-invested modern technological infrastructure, Vinaseed will be a place for scientists with a dedicated aspiration for Vietnamese agriculture to turn out highly competitive products resilient to climate change.
Mrs. Tran Kim Lien, Chairwoman and General Director of Vinaseed, said that transformation into a business group model is suitable with the firm's new development stage while focusing on promotion of high-technology content products in its value chain scheme, and managing safe cultivation solutions and traceability. The company also invests in predominant products, develops specialized cultivating regions, allowing farmers in the company's value chain to gain access to a new agricultural cooperative model. We do believe that with inspirational and reliable strategic orientation, with enthusiastic teams, scientific and technological potentials and solid finances, differentiated products and services, with support from the holding company - The PAN Group - Vinaseed will create associate business and production models contributing to developing Vietnamese agriculture.
N.Nga
Source: thesaigontimes.vn