PetroVietnam calls on Government support for Block B-O Mon gas project
Thursday, November 1,2018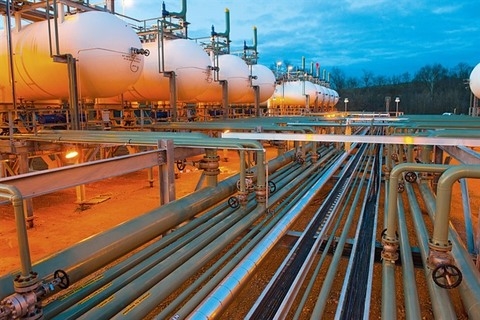 AsemconnectVietnam - PetroVietnam has called on National Assembly deputies to propose creating favourable conditions to speed up the Block B-O Mon Gas project which is behind schedule.
The project has been delayed, risking increasing the total investment and reducing the economic efficiency of the project, as well as slowing the Government's revenue, said PetroVietnam's deputy general director Nguyen Quoc Thap at the corporation's meeting with NA deputies in Can Tho City, Lang Son and Ca Mau provinces last week.
The Block B-O Mon Gas project is one of the two largest gas projects in Viet Nam to date, with total investment of roughly US$10 billion. It is expected to contribute $18 billion to the State budget during the project's 20-year lifespan.
The project is located in Malay-Tho Chu basin, southwest Viet Nam, and comprises the development of a gas field and pipeline. It was announced in April 2016 and first production is expected in the second quarter of 2020.
The project will contribute to the country's energy security by supplying gas to power plants and establishing a large gas infrastructure. It is also hoped to have a positive impact on the Southwestern region's economic development.
According to Thap, the project implementation is facing many difficulties, thus he proposed the Government soon approve the pre-feasibility report for the O Mon power plants as well as create policies to invest in the O Mon power plant 2 in November.
In addition, PetroVietnam also suggested the Government sign a guarantee with foreign investors as the basis for the final investment decision this year.
At the meeting, Tran Quoc Trung, secretary of the Can Tho City's Party Committee and head of the city's delegation of National Assembly deputies, said city authorities were ready to support PetroVietnam to implement the power plants under the Block B-O Mon gas projects.
Trung said this was an important project, which, once completed, will help reduce the power shortages in the western region after 2021.
Can Tho is ready to support site clearance and pipeline construction, Trung said, adding that the city authorities would continue recommending the National Assembly and Government to soon resolve PetroVietnam's proposals related to the project.
Duong Thanh Binh, secretary of Ca Mau Province's Party Committee and head of Ca Mau's NA deputy delegation, also confirmed the province's support for the project and promised to propose the Government tackle difficulties faced by the project.
Source: Bizhub.vn