Vina Chuoi receives funding of more than VND2 billion
Friday, August 3,2018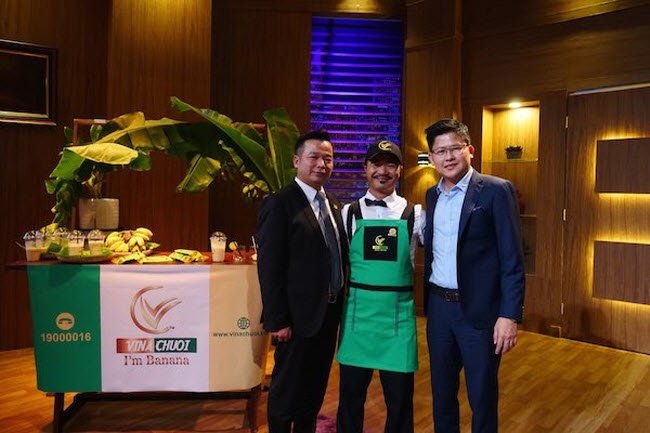 AsemconnectVietnam - Vina Chuoi, a startup specializing in foods and beverages made from bananas, received funding of VND2.3 billion (US$98,900) from two investors on reality TV show Shark Tank, which was broadcast on the evening of August 1 on the VTV3 channel.
Shark Dung Nguyen, investment director and head of the Vietnam and Thailand offices of CyberAgent Ventures, Inc., and Shark Viet, chairman and general director of Infrastructure Investment and Transportation Construction JSC (Intracom), jointly invested in Vina Chuoi in exchange for a 51% stake in the startup, offering to solve its financial crunch. The investors will consider putting in an additional VND1.3 billion based on the startup's business performance.
In addition, Shark Nguyen will assign supervisors to follow up on the operations and expenses of Vina Chuoi. Once the business becomes successful, Shark Dung will hand over complete ownership to founder Pham Nhu Can.
Vina Chuoi has two selling points in central District 1 in HCMC and simultaneously operates an online business by cooperating with the online food sales channel of Foody. Its revenue in the first half of the year exceeded VND950 million, of which the profit accounted for 47.5%. The company sells some 450 bananas every day.
Can has high hopes for his thriving business, stating that the additional funding will help the company open more stores and optimize its food-processing systems, such as frying banana cakes or making banana smoothies. The startup reportedly has its own secrets regarding flour-mixing technique. Its black Siamese bananas are imported from Tien Giang, while the frying machinery was bought overseas.
In the same episode of the show, another project, named Tokai, received VND12 billion from Shark Viet in exchange for a 51% stake. The startup will offer houses on lease and exploit abandoned houses, also known as "ghost houses," in Japan.
Tokai founder Ha Canh targeted VND15 billion in revenue in the first year of operations, VND28 billion in the second year and VND46 billion in the third. She noted that in the first four years of business, Tokai will offer 70 rental houses to Vietnamese people traveling to Japan, adding that she expected the annual profit to reach 25%.
Source: thesaigontimes.vn