HEINEKEN Vietnam Continues Taking Lead in Sustainable Development
Saturday, June 30,2018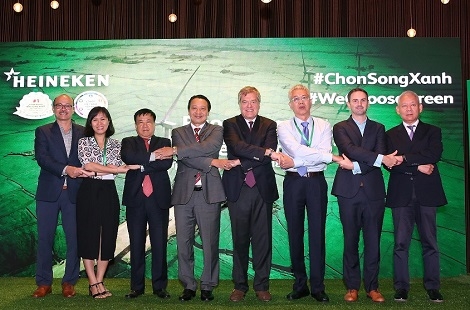 AsemconnectVietnam - For HEINEKEN Vietnam, Green is more than the signature colour of its globally favoured brand, it is a deliberate choice made by the Company on a global level as well as in Vietnam to act sustainably. Choosing Green means committing to sustainable operations, an approach which HEINEKEN has taken on and also inspired others to follow for over 27 years in Vietnam.
HEINEKEN Vietnam launched its 2017 Sustainability Report, highlighting its impressive sustainability accomplishments in 2017. This is the fourth consecutive year that HEINEKEN Vietnam has published a GRI accredited Sustainability Report for Vietnam. 2017 is also the year in which HEINEKEN Vietnam was awarded as the Most Sustainable Manufacturing Company in Vietnam by the Vietnam Chamber of Commerce and Industry (VCCI) in the annual CSI 100 awards.
Leo Evers, Managing Director of HEINEKEN Vietnam, said: "The choices we make define who we are. For HEINEKEN Vietnam, sustainability is our choice. We choose Green by taking care of our People and the Planet to sustain Prosperity for a better Vietnam. With a corporate strategy entrenched in the triple bottom line approach, HEINEKEN Vietnam has continued to integrate sustainability into our core business to set new
benchmarks in sustainable development through continuous improvements, rigorous assessment and communication of our progress. Going forward, we believe that there is so much more to be done. We will continue to work with our stakeholders to implement suitable strategies, so that together we can brew an even better Vietnam."
HEINEKEN Vietnam's sustainability strategy continues to focus on six key areas where the Company believes it can have the greatest impact in Vietnam: Advocating Responsible Consumption; Promoting Health and Safety; Protecting Water Resources; Reducing CO2 Emissions; Growing with Communities; and Sourcing Sustainably. Key achievements in 2017 include:
Taking care of our PEOPLE: In 2017, HEINEKEN Vietnam invested VND 16 billion for responsible consumption initiatives, reaching ten million Heineken® and Tiger fans through brand responsible consumption campaigns. Most significantly, within the framework of the When You Drive Never Drink campaign, HEINEKEN Vietnam continued its long-term partnership with the National Traffic Safety Committee to positively engage consumers to not drink and drive and offer practical solutions – providing 130,000 taxi vouchers.
People development is among the top priorities at HEINEKEN Vietnam - one of the Best Places to Work in Vietnam. In 2017, the Company invested VND18.9 billion in this area, including over 2,600 training hours for employees on road safety and health. It doesn't stop there, HEINEKEN Vietnam went above and beyond by providing over 6,000 hours of training for its distributors and sub-distributors. Proud of its "Safety First" culture, there were zero work-related fatalities in 2017. HEINEKEN Vietnam employees also spent over 2,000 volunteer hours for charity and advocacy initiatives and the Company invested a further VND7.8 billion in direct community support initiatives.
Taking care of the PLANET: In 2017, 100 per cent of HEINEKEN Vietnam's wastewater was treated so that it could be safely reused for other purposes such as landscaping. HEINEKEN Vietnam's breweries are the most water efficient of all HEINEKEN operating companies in Asia Pacific Region. HEINEKEN also played a leading role in applying circular economy into its operations. In 2017, the company sourced approximately 54,000 tons of rice husk and woodchips from farmers to generate thermal energy. This initiative allowed four out of its six breweries to brew 100 per cent with carbon neutral renewable energy and at the same time, provided substantial income for Vietnamese farmers as well as supported the development of biomass energy industry in Vietnam. On the other hand, HEINEKEN Vietnam continued to find new uses for its own waste. In 2017, the Company sent virtually zero waste to landfill (99.01 per cent of its inputs were re-used or recycled, with only approximately 1 per cent lost or sent to landfill). Moreover, HEINEKEN strived to ensure the highest level of sustainability in its daily operations. 100 per cent of Heineken® fridges on the market are environmental friendly. The Company's visitor center located inside HEINEKEN Brewery in District 12, Ho Chi Minh City, is powered 100 per cent by solar energy.
Sustain PROSPERITY: In 2017, HEINEKEN Vietnam contributed VND42.3 trillion to Vietnam's economy, equivalent to 0.88 per cent of the country's total GDP, compared to 0.75 per cent in 2016. A total of over 158,000 jobs were supported throughout its value chain across Vietnam. HEINEKEN Vietnam continued to prioritize and maximize local sourcing whenever possible with its partners in Vietnam.
Beyond its breweries and value chain, HEINEKEN Vietnam is spreading the sustainability culture by starting the social campaign #wechoosegreen, encouraging more people to take realistic and simple actions for a better, greener Vietnam in their daily life. The campaign will be launched by end of June on HEINEKEN Vietnam Facebook fanpage at:
https://www.facebook.com/HEINEKENVietnam/
Source: Vccinews.vn