Truong Thanh Furniture Corporation: 21 years of construction and development
Wednesday, December 27,2017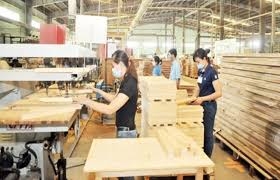 AsemconnectVietnam - Established in 1993 in the Central Highland province of Dak Lak, overcoming 21 years of construction and development, Truong Thanh Furniture Corporation overcame challenges and has become a multi-business group with over 7,000 employees and eight factories in Ho Chi Minh City, Binh Duong, Dak Lak and Phu Yen provinces with a total area of 34 ha.
Besides, the company built European standard factories to ensure safety for workers, machines and equipment imported from Italy, Germany, Japan and Taiwan.
Beginning with simple processing, the company is now a leading supplier of wooden products in Vietnam. The group's products are designed with diversified styles, solid structure and high quality; thus they easily penetrate choosy markets like the United Kingdom, France, Germany, Spain, Finland and Japan. After the secondary equity offering in late 2007 and the official listing on the Ho Chi Minh City Stock Exchange (HOSE) on February 18, 2008, the company expanded its capacity and financial resources to become one of three ASEAN-largest companies in terms of forestation and wood processing.
Overcoming economic instabilities, Truong Thanh Furniture Corporation retained a stable growth. In 2010, the company outstandingly studied and successfully developed new techniques, especially high-tech flooring boards for the domestic market. The company's high-tech flooring board is produced by Japan's advanced technologies and satisfied with European quality standards. This natural, environment-friendly line is beautiful and luxurious.
Besides, Truong Thanh Furiture Corporation is also a pioneer in forestation. The company not only responded to the government-backed programme of growing 5 million hectares of forests but also invested in planting 100,000 hectares of forests in two provinces of Phu Yen and Dak Lak. The group started exploiting its forests in 2010 with the first 300 ha. In the past years, the company imported 80 percent of timbers but the group expects to take the initiative of material sources and protects environment.
The group is also determined to carry out the mission of "For Evergreen Earth" by cooperating with Jatro Company to plant 100,000 hectares of Jatropha trees in Vietnam from 2011. This facility will supply input materials for environment-friendly bio-fuel (bio-diesel oil). This project also created jobs for a lot of people.
In addition, the group has also joined hands with GTZ Organization of Germany to establish a vocational training centre for wood processing in Dak Lak province, aiming to deliver knowledge and skills of all industries for all companies in Vietnam. Apart from training for the community, the employees also have a better opportunity to know better skills and techniques. The group is proud of the professional designers (the company now design 80 percent of models).
The group's achievements clearly evidenced the new momentum to effectively exploit potentials advantages of the nation. In the deepening integration period, the group will strive to continue to turning out best products, helping the Vietnamese wood industry to heighten its position on the international markets.
N.Nga
Source: Vccinews.vn