Hiep Thanh Fertilizer Co., Ltd - For public health
Tuesday, December 26,2017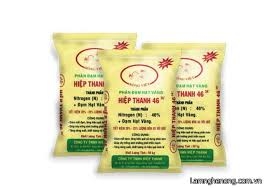 AsemconnectVietnam - Established in 2009 on an agriculture-based land, Hiep Thanh Co., Ltd is a trusted supplier of fertilizers for farmers in Ben Tre province. The company's fertilizer quality ensures bumper crops.
The company produces NPK fertilizers for local farmers. Besides, the company has established close relations with research institutes, application centres and scientists to study on technological innovation, product development, market expansion and personnel training to turn out a wide range of products for different crops. Currently, Rong Viet-branded products of Hiep Thanh Company are diverse enough to fertilize different crops with different growth periods, including NPK fertilizers, organic fertilizers, fertilizers for special purposes, and foliar fertilizers. Proven to enhance crop yield and quality, the company's products are currently available in most Mekong Delta provinces, Southeast provinces and Cambodia.
With the motto "For sustainable agriculture, for public health," the company always seeks and selects reputable partners and quality-stable products to ensure the supply of fertilizers of reasonable prices for farmers. Not only providing high-quality products, the company always helps farmers increase crop yield and crop quality. This is an important target of Hiep Thanh in fertilizer. The company also hosts many meetings with farmers to provide them with necessary knowledge to use fertilizers for different crops in different growth periods.
To become a leading manufacturer and trader of fertilizers and chemicals and meet all demands from agricultural customers, Hiep Thanh has continuously invested in upgrading equipment and machinery, expanding production factories, and hosting customer base development programmes currently called "Thanking farmers" Programme. The company also performs researches on new products to meet specific demands of customers, builds laboratories to develop new products, expands agent networks, and exports products to foreign nations in 2016. Its products have also received a lot of quality awards like Vietnam High Quality Products Award 2012 from the Vietnam Union of Science and Technology Associations, and Safe Brand Gold Cup 2012.
Hiep Thanh Co., Ltd also takes part in many practical pro-community activities every year like supporting Giong Trom District Study Encouragement Fund and the Elderly Fund. All expresses the humanity of the company in the new era. Besides, if the company receives soft loans for business expansion, equipment upgrading and production rationalization, Hiep Thanh Fertilizer Co., Ltd will reach out further and contribute more to the socioeconomic development of Ben Tre province in particular and of Vietnam in general.
N.Nga
Source: Vccinews.vn