Ba Huan opens poultry egg packaging plant in Hanoi
Tuesday, April 18,2017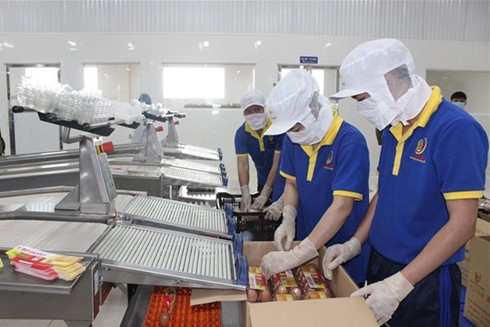 Ba Huan Company inaugurated a high-tech poultry egg packaging plant covering two hectares in Hanoi's outlying district of Phuc Tho on April 15.
The VND100 billion (US$4.4 million) facility has a designed capacity of 65,000 eggs per hour. It uses automated egg packaging equipment supplied by the Netherlands' Moba Group, which specializes in egg grading, packaging and processing machinery.
Thanks to advanced technology, eggs are processed and sterilized to meet international standards for food safety and hygiene.
The plant also has cold storage facilities for processed food such as hot dogs and sausages transferred from HCM City to the country's north for sale.
The company also supplies traditionally salted and preserved eggs for the northern market.
The company has an 18-hectare farm with one million poultry, a feed processing facility with an hourly capacity of 20 tons, a two-hectare poultry egg packaging plant with a capacity of 185,000 eggs an hour in HCM City, and a five-hectare food processing plant with a daily capacity of 50 tons.
Source: vov.vn