Local companies join industrial supplier group
Thursday, December 6,2018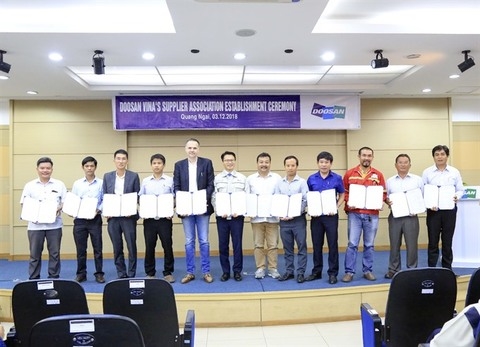 AsemconnectVietnam - Korean firm Doosan Heavy Industries Viet Nam (Doosan Vina) has inked Memorandums of Understanding (MoUs) with 11 local suppliers to establish Doosan Vina's Supplier Association with the aim of sharing international expertise and networking with Vietnamese companies.
The long-term partnership agreement, which was signed on December 3, will share technical, management and operational procedures among Doosan Vina and Vietnamese industrial suppliers working in the fields of electrical, mechanical, steel, construction and engineering.
The agreement will help promote incentives for the suppliers maximise their investments and help grow and stabilisze their businesses by becoming more efficient and competitive.
As planned, the association's members will be offered opportunities to expand their businesses through introductions to other business-to-business (B2B) firms that work with Doosan Vina. The association will promote co-operation on mutually beneficial Corporate Social Responsibility (CSR) programmes.
Kang Sanghyung, Director of the Procurement Division at Doosan Vina, said reputable local suppliers have helped Doosan Vina create many high quality Made-in-Vietnam products that are available in 33 countries around the world.
He said he hoped the establishment of the association will be a milestone that marks the beginning of a long-term relationship that will help maximize profits, promote economic growth and promote Vietnamese products in both the domestic and international market.
Last month, Doosan Vina and Samsung Engineering Company (SECL) also signed a framework agreement for a major project in the Middle East.
In 2017, Doosan Vina signed a Memorandum of Understanding with five partners from Korea to help them enter the Vietnamese market.
Doosan Vina, situated in the Dung Quat Economic Zone in Binh Son District of the central province of Quang Ngai, is a high-tech industrial complex with nearly 2,500 employees, supplying mega infrastructure products for thermal power plants and desalination plants, and cranes and chemical processing equipment for export.
It manufactures boilers for thermal power plants, desalination plants for sea water, cranes and structural steel for buildings and infrastructure developments.
To date, the company has exported products with a total value of US$2.4 billion.
Source: Bizhub.vn