Korean brand CUCKOO hits Vietnamese shelves
Friday, September 21,2018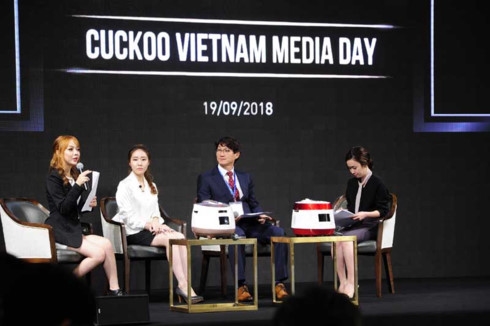 AsemconnectVietnam - On September 19 in Hanoi, CUCKOO, the leading home appliances company in the Republic of Korea, officially established a legal entity in Vietnam with the purpose of bringing high quality products closer to Vietnamese customers through its authorized dealers in Hanoi and Ho Chi Minh City.
With its 40 years of formation and development, CUCKOO is presently seen as Korea's number one electronics home appliance brand.
Realizing Vietnam's potential, the company has taken the initial steps in expectation of winning customer trust by securing a foothold in the Vietnamese market.
Apart from promoting the sale of their products, CUCKOO's official agents will launch a whole raft of attractive shopping activities as well as offer comprehensive after-sales services. The establishment of a legal entity in Vietnam will help ensure smooth and systematic operation of its agents.
CUCKOO plans to introduce a wide range of electronics products such as high-grade rice cookers, water and air purifiers, and electric cookers.
In order to meet local customers' growing shopping demand, the company is also about to kick off an "Easy on" program to provide its new members with instructions on how to to use its high-grade products which are available at reasonable prices – a quarter to a third of market prices – while still enjoying full services, including periodical checks of products.
On the occasion of making its debut in Vietnam, CUCKOO also introduced a vast array of electric pressure rice cookers, specially designed for the Vietnamese market such as the two product lines CRP-PK1000S and CRP-M1000S - with a control panel in Vietnamese language at reasonable prices to meet the needs of Vietnamese families.
With the launch of their new products aiming to provide Vietnamese customers with easy to use electric pressure rice cookers, CUCKOO desires to affirm its vision for conquering the Vietnamese market.
According to a CUCKOO representative, the establishment of its subsidiary company in Vietnam aims to bring more primary quality products to the market in the hope of becoming a popular brand for all Vietnamese families.
Source: Vov.vn