Sabeco ticker perks up after dividend announcement
Friday, August 31,2018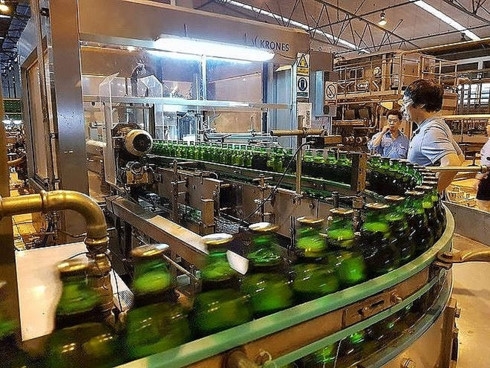 AsemconnectVietnam - After Saigon Alcohol, Beer and Beverage Corporation (Sabeco) announced paying dividend, its share valuation saw an increase by approximately VND7,000 per share to VND220,000 ($9.7).
Most recently, Sabeco published the information that it will pay dividend at 35 per cent ratio, including 15 per cent in October and 20 per cent in December this year. At this ratio, each share is valuated at VND3,500.
With 641.3 million shares in circulation, Sabeco will have to pay approximately VND2.22 trillion ($98.2 million) in dividends, including VND1.2 trillion ($53.09 million) for ThaiBev who owns 53.59 per cent of Sabeco's charter capital and VND805 billion ($35.6 million) for the Ministry of Industry and Trade (MoIT) that holds 36 per cent.
After Sabeco published the above information, as of the 3PM transaction session on August 27, its share value increased to VND220,000 apiece, up VND7,000 compared to three days ago.
Despite the increased share valuation, in comparison with the VND320,000 ($14.09) share price that ThaiBev paid for Sabeco's shares, ThaiBev is currently experiencing losses of VND11.8 trillion ($522.1 million) from the deal.
In late July, Neo Gim Siong Bennett, former deputy general director was appointed as general director and the second legal representative of Sabeco, replacing Nguyen Thanh Nam, who was appointed by the Ministry of Industry and Trade (MoIT) one year ago.
Accordingly, as of August 1, 2018, Singaporean businessman Neo Gim Siong took over as the general director of Sabeco for 2018-2023.
ThaiBev first proposed the MoIT to appoint Bennett as general director of Sabeco in April 2018, however, at the time the proposal was not approved, and he became deputy general director instead.
Meanwhile, Koh Poh Tiong continues as chairman of Sabeco's board of management and the first legal representative of Sabeco.
In mid-July, Sabeco published its business targets for 2018, showing that the company targets to earn VND36.092 trillion ($1.56 billion) this year, up 2.4 per cent compared to 2017. Beer sales only saw a light increase to 1.8 billion litres compared to the 1.79 billion litres of 2017.
This is the first year that ThaiBev is on the Sabeco Board of Directors, however, Sabeco has lowered its profit target by 20 per cent year-on-year.
Source: Vov.vn