Toyota Vietnam announces know-how program 2018
Wednesday, August 29,2018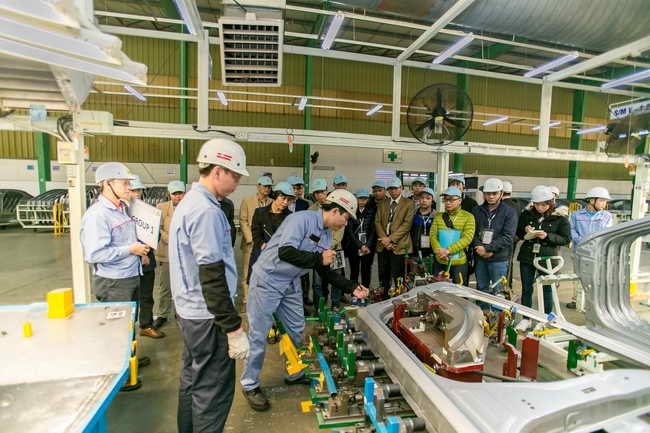 AsemconnectVietnam - Toyota Motor Vietnam (TMV) in cooperation with Hanoi University of Science and Technology (HUST) has announced to implement the Monozukuri Program – Know-how to success in manufacturing and business 2018.
This is the 14th year that the program has been carried out to create chances for local enterprises and students to approach and learn about Toyota Production System (TPS) and know-how to success of Toyota. This year, the program includes six training courses for enterprises and students and two Kaizen (continuous improvement) showcases from August 2018 to March 2019.
Under the instruction of HUST lecturers and Toyota experts, the training courses provide contents like introduction on the TPS, just-in-time, autonomation, standardized work, continuous improvement and futility, logistic and warehouse management. Students are guided to participate in more games, group discussions, case studies, problem identification in daily production practices of the company and propose appropriate solutions.
In addition, students can learn how to apply TPS in reality through Toyota plant tours and some companies that had participated in the Monozukuri program earlier. The program also offers specialized training course for businesses to help them apply TPS theory to their business in the learning process. Trainees will be directly instructed by the instructor on how to find continuous improvement topics and improve their practice at the production site.
Until now, the program has successfully organized 47 training courses for 368 trainees from 129 enterprises and technical students nationwide.
Businesses and students who want to attend this program can register at Room 207A, C9 Building, Hanoi University of Science & Technology - No. 1, Dai Co Viet Street, Hai Ba Trung District, Hanoi. Tel: +84-24-38684953 / 0972 302 207, email: info@monozukuri.edu.vn.
Source: thesaigontimes.vn