Viettel posted profit in 8 out of its 10 overseas markets
Saturday, July 7,2018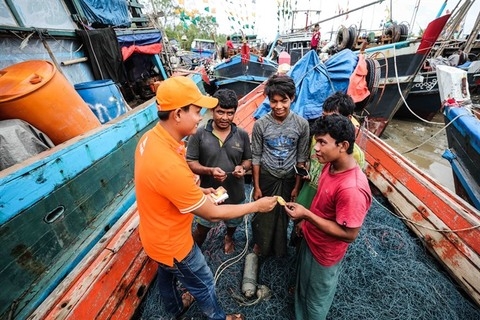 AsemconnectVietnam - Military-run Viettel Group reported profits in eight of its 10 overseas markets including Peru, Cambodia, Laos, Haiti, Burundi, East Timor, Mozambique and Cameroon in the first half of the year.
In the three countries of Laos, Cambodia and East Timor, Viettel's investment has been returned and the company has taken the leading position in their telecommunications network markets. The markets brought revenue worth four to five times the investment value.
Viettel's two overseas markets of Tanzania and Myanmarhave been in the planned loss period as the group has operated for two years in Tanzania and a month in Myanmar. However, the two markets saw high growth.
Last year, Tanzania posted a revenue increase of 35 per cent. Mytel, the Viettel-owned mobile operator in Myanmar, has signed up more than a million subscribers in just 10 days since it officially began operations. This growth rate is unprecedented in all of Viettel's markets in the world, including Viet Nam.
Viettel Global Investment JSC, which is in charge of Viettel's overseas investment, said its business results in the first quarter of the year saw positive changes. Its integrated profits in overseas markets, excluding Peru, in the first three months of the year reached VND14 billion (US$607,000), increasing by 42 per cent from the same period last year even though Tanzania and Myanmar have been in the planned loss period.
Viettel Global said the integrated profit figure was not high as its newly invested markets had a larger scale than previous ones.
The three countries of Tanzania, Cameroon and Myanmarare 1.7 times more than the area of five remaining overseas markets of Viettel, including Laos, Cambodia, East Timor, Haiti, Mozambique.
In addition, Peru, which has been Viettel's most profitable overseas market, has not been calculated into Viettel Global's business results as under the Peruvian Government's regulations, Viettel Group, not Viettel Global, is recognised as the investor in the market.
In reality, it often takes four to five years after opening for telecoms firms investing in highly competitive foreign markets to reach the break-even point. Viettel meanwhile aimed to become profitable after three years.
Viettel Group has been in the top 15 biggest telecoms companies in the world in terms of subscriber numbers and top 40 in terms of revenue.
Viettel has invested in 10 foreign markets with total population of 240 million people in Asia, Africa and the Americas.
It aims to expand its investment market to a population of 400 to 500 million people and join the world's top 10 biggest telecoms firms by 2020.
Source: Bizhub.vn