New enterprises up 5.3% in H1
Friday, June 29,2018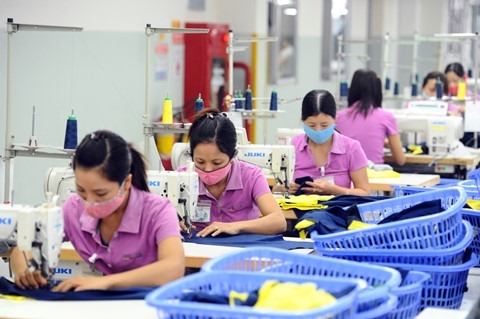 AsemconnectVietnam - More than 64,350 new enterprises were formed in the first half of this year with a total registered capital of VND648.9 trillion (US$22.95 billion).
These figures, marked year-on-year increases of 5.3 per cent in the number of businesses and 9 per cent at the level of capital, the Business Registration Management Agency, operating under the Ministry of Planning and Investment reported.
Experts at the agency attributed the period's positive performance to the improving business conditions and registration procedure.
According to experts, the newly-established firms have a tendency to rise since the beginning of this year. Notably, the second quarter of this year saw the highest number of new firms and level of registered capital over the past five years with 37,750 units, registering $11.8 billion in capital, up 41 per cent and 33 per cent, respectively.
In the first six months, the average capital for an enterprise reached VND10.1 billion, surging 3.4 per cent over the same period last year.
New enterprises have mainly focused on sectors such as wholesale and retail, repair of cars and motorcycles, accounting for one third of the total capital.
The firms also concentrated on processing and manufacturing, making up 13.5 per cent, and the construction sector, equivalent to 13 per cent.
Meanwhile, the real estate trading sector saw the highest level of registered capital in the six-month period, accounting for 30 per cent of the total capital, the agency noted.
Opposite to the 5 per cent rise of new enterprises, nearly 18,000 firms stopped operations from January to June, up 25 per cent year-on-year, while 6,630 completed dissolution procedures, up 22 per cent. Most of these businesses were small-scale and located in the Red River and south-eastern regions.
Earlier this year, the Prime Minister Nguyen Xuan Phuc signed to issue a decree on cutting 675 of the 1,216 business conditions (or 55.5 per cent), managed by the Ministry of Industry and Trade (MoIT).
In September, 2017, MoIT Minister Tran Tuan Anh approved a plan to abolish 675 business conditions under the management of the ministry, showing the ministry's pioneering role in reforming business conditions.
According to Tuan Anh, besides the reduction of 675 business conditions, the MoIT also decided to eradicate 420 of the 720 goods codes, subject to pre-clearance inspection, which made up 58.3 per cent of the total number of tariff codes.
Source: Bizhub.vn