Kyoei Steel's prospects after Vietnam Italy Steel acquisition
Friday, May 11,2018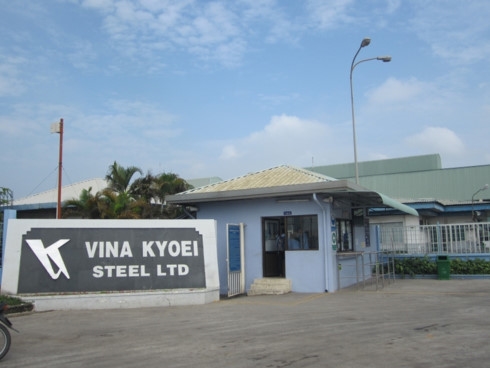 AsemconnectVietnam - Will buying an additional 45 per cent stake in Vietnam Italy Steel JSC (VIS) help Japanese Kyoei Steel to grow dominant in the steel manufacturing sector in Vietnam?
After VIS receives approval to increase the foreign ownership limit (FOL) to 100 per cent, Kyoei Steel announced intentions to buy 33.2 million shares more or 45 per cent stake in VIS to increase its holding to 65 per cent.
The registered stake is equal to the stake that Thai Hung Trading JSC, which owns a 65 per cent stake in VIS, will divest.
The deal is expected to take place on the stock exchange from May 10 to June 6. VIS' share is valued at VND34,400 ($1.51) apiece, thus Kyoei may spend at least VND1.14 trillion ($50.06 million) on the deal.
VIS was established in 2001 by Song Da Corporation. The corporation later decided to divest all of its 26.1 million shares from VIS.
The company is specialised in producing and trading construction steel, import and export materials, spare parts, and equipment for the steel industry, as well as logistics services.
According to the board of directors, the Vietnamese construction sector will see an increase of 9.7 per cent this year and reach an average growth of 8.2 per cent in 2017-2021. This year, VIS targets to reach the production capacity of 500,000 tonnes of steel, up 9 per cent, and VND7.09 trillion ($311.55 million) in revenue with VND90.4 billion ($3.97 million) in pre-tax profit, signifying on-year increases of 16 and 64 per cent.
In September 2011 Kyoei Steel established Kyoei Steel Vietnam Co., Ltd. (KSVC) in the northern province of Ninh Binh. KSVC started to operate in March 2012 with the designed production capacity of 500,000 tonnes per year. At present, Kyoei is holding 60 per cent in KSVC, Metal One Corporation has 20 per cent, and Marubeni-Itochu Steel Inc. 40 per cent.
Previously, in 1994, Kyoei Steel, Mitsui & Co., and Marubeni-Itochu Steel Inc. from Japan, along with Vietnam Steel Corporation, established the Vina Kyoei Steel Co., Ltd. joint venture. It set up a steel plant in the southern province of Ba Ria-Vung Tau with the annual capacity of 450,000 tonnes in 1996. In July 2015, Vina Kyoei Steel Ltd. put into operation its $220-million steel plant after three years of construction.
Located at Phu My 1 Industrial Zone in Tan Thanh district, the steel plant has an annual capacity of 500,000 tonnes of deformed bars, thread deformed bars, plain round bars, and wire rods, among others. The plant's products make up 10 per cent of the domestic steel market.
Along with the steel plants in operation, Kyoei has another, long-delayed unit. Notably, in 2014, KSVC started to construct a high-quality rolling steel mill at Khanh Phu Industrial Zone, Ninh Binh province's Yen Khanh district.
The mill was expected to come into operation in 2016 with the capacity of over 800,000 tonnes. However, until 2016, the project moved at a snail's pace, thus the Ministry of Industry and Trade (MoIT) warned cutting it from its new steel master plan to 2020 with vision to 2030.
At the time, the Japanese steelmaker confirmed its determination to revive the delayed steel mill, while simultaneously affirming that it would pour $200 million into the project. Construction was expected to start by the end of 2017, with the rolling mill slated to come online in 2019 and the steelmaking facility in 2020. However, to date, the mill remains in limbo.
Source: Vov.vn