Hoa Sen records largest steel exports to Europe
Wednesday, May 9,2018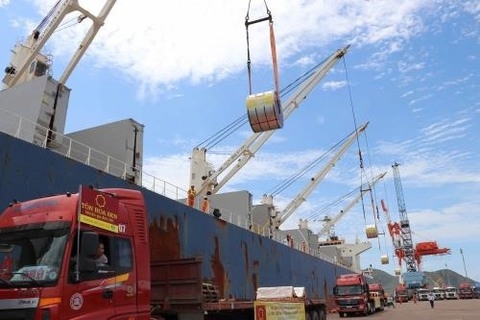 AsemconnectVietnam - Hoa Sen Group exported 15,000 tonnes of steel directly to Europe on May 8 from the Quy Nhon Port in Binh Dinh Province.
The exported steel was produced in accordance with the European standard, BS EN 10346: 2015.
This is the largest volume of steel to be exported directly from the Quy Nhon Port to two seaports in Antwerp (Belgium) and La Rochelle (France). The volume was shipped through the Nemea (Cayman IS) vessel with a capacity of 63,000 tonnes.
Tran Ngoc Chu, Hoa Sen's executive vice chairman, said the shipment marked a step forward in the export activities of Hoa Sen Group as well as the domestic steel industry, which showed the potential of Viet Nam in the steel production sector.
This year, Hoa Sen expects to export another 150,000 tonnes of galvanised steel to the European market.
The export volume of 15,000 tonnes of steel that was sent to Europe was manufactured at the Hoa Sen-Nhon Hoi-Binh Dinh Steel Plant. The group is currently constructing the second phase of this plant with a capacity of 400,000 tonnes per year, meeting the higher demand at home and abroad.
The export also marked the first time that Quy Nhon Port had received a vessel with a capacity of up to 63,000 tonnes of cargo.
Phan Cao Thang, permanent vice chairman of the People's Committee of Binh Dinh Province, said the province has committed to creating favourable conditions for enterprises to develop production in the province and export activities at Quy Nhon Port.
The province will also support the Quy Nhon Port in improving its cargo handling capacity, Thang said.
Recently, Quy Nhon Port has invested in modern infrastructure to receive vessels with a capacity of up to 70,000 tonnes and reduce the time of loading and unloading goods. In future, authorities will strive to transform Quy Nhon Port into an international seaport.
Source: Vov.vn