Nam Kim Steel Joint Stock Company competes in product quality
Thursday, December 28,2017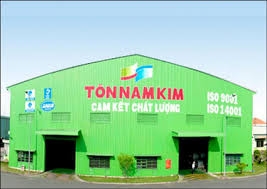 AsemconnectVietnam - Over 15 years of construction and development, Nam Kim Steel Joint Stock Company has always maintained constant rapid growth. In recent years, domestic and global economies effected on local businesses, but Nam Kim Steel still managed to achieve significant results.
The company is rated as one of three leading manufacturers of coated steel sheets and coils in Vietnam. With its strictly controlled quality management system and self-contained production process with six production lines, including cleaners, cold-rolled lines, thick galvanizing lines, cold-coated lines, and others, the company can make products like zinc plate and galvanized steel pipes. Right from its establishment, the company defines that quality decides success and development of a brand name. Hence, the company's products are made by modern technology and equipment transferred by South Korea-based Posco Group and other famous steel firms in the world. Input materials are imported from developed countries.
To stand firmly and succeed in an increasingly competitive environment, Nam Kim's products must have outstanding features. All products are made by advanced technologies, with rich features, stable quality and distinctiveness. All Nam Kim products are not inferior to any competitors, both domestic and imported. Nam Kim products are applied environment-friendly solutions and energy-saving technologies. Apart from quality policy, Nam Kim also applies attractive after-sale policies, thus widely trusted and supported by customers. To date, Nam Kim products are available in all provinces and cities in the country. As for international markets, its products have been shipped to countries in Southeast Asia, the Middle East, Africa and Europe. This is resulted from the trust of domestic and international consumers in product quality.
CEO Pham Manh Hung said: "In the current tough time, businesses need to change to survive and develop. Particularly, promoting core competencies of business and sustainable strategies will be solid steps for the future success of enterprises. What businesses need is the existence of a favorable, competitive, healthy and fair business environment. For our part, we will advance corporate restructuring scheme, with focus given to improving human resources quality, applying science and technology to production and business activities to raise labour productivity, improve quality and reduce production costs. We will focus on expanding our market approaching and enlarging capabilities, especially new potential markets. We will set up partnerships with other firms while reviewing production costs supervising mechanism to cut unnecessary expenses to pave the way for lowering product prices".
Beginning with a small enterprise, so far, Nam Kim Steel has become one of three top producers of galvanized steel sheets in Vietnam and rated a Top 500 company in Vietnam (VNR500). However, Nam Kim Steel brand is yet to be commensurate with its existing capacity and has not really become a community brand. All staffs and management of Nam Kim Steel have continuously strived to make Nam Kim Steel a favourite brand in the domestic market. This is not only a common goal but also an important task that the company needs to achieve. With its continuous effort and creativity, Nam Kim Steel will always hold on market trends to achieve best business results in both domestic and international markets.
N.Nga
Source: Vccinews.vn