World Trade Report sees increasing role for services trade, need for global cooperation
Thursday, October 17,2019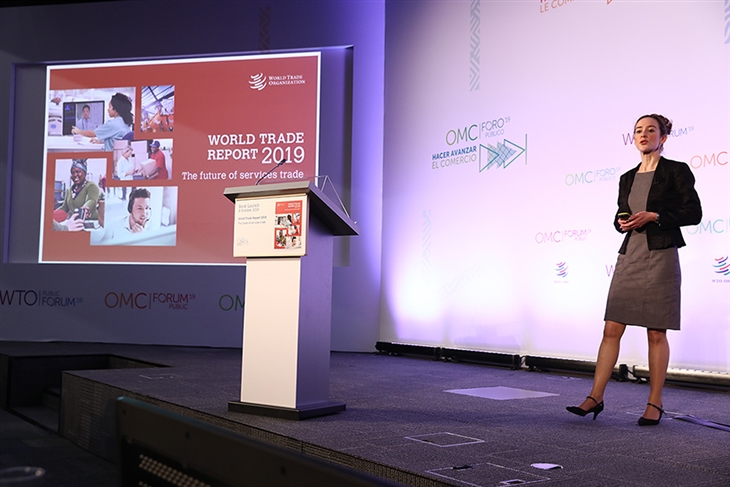 AsemconnectVietnam - The 2019 edition of the WTO's World Trade Report highlights that services have become the most dynamic component of international trade and that its role will continue to expand in the coming decades. It stresses the need to enhance cooperation in the international community to support this expansion. The report was launched during the WTO Public Forum on 16 October 2019 by Director-General Roberto Azevêdo.
The report underlines that trade in services – ranging from distribution to financial services -can help countries boost economic growth, enhance domestic firms' competitiveness and promote inclusiveness. It illustrates how the share of services in international trade has continued to grow, and how technology, climate change, rising incomes and demographic changes will have an impact on services trade in the future. It also suggests ways to maximize the potential of services trade globally in the years to come.
On average, services account for about half of GDP worldwide. For developed economies, they account for around three-quarters of GDP and their proportion is increasing rapidly in developing economies.
According to the report, services trade has grown 5.4 per cent per year since 2005, while trade in goods has grown at 4.6 per cent on average. Trade in computer services and research and development have recorded the most rapid annual growth over the past decade. According to the WTO Global Trade Model, a new quantitative trade model used by the WTO to make projections about global trade, the share of services in global trade could increase by 50 per cent by 2040. This is thanks to lower trade costs and the reduced need for face-to-face interaction due to digitalization. It is also dependent on policy barriers to services trade being lowered.
Many developing economies are becoming increasingly services-based and their share of world services trade has grown by over 10 percentage points since 2005. However, services trade is concentrated in five developing economies – China; Hong-Kong China; India; the Republic of Korea and Singapore – accounting for over 50 per cent of developing economies' services trade in 2017.
The report says that services trade may help women and micro, small and medium-sized enterprises (MSMEs) play a more active role in world trade, particularly in developing economies, helping to reduce economic inequality. Services are the main source of employment for women. However, the service sectors that account for most women employment have been so far among the least traded.
Despite their decline by 9 per cent between 2000 and 2017, barriers to trade in services remain much higher than in goods trade. This is largely due to the limited possibilities to supply certain services across the border and the regulatory intensity of many service sectors.
Technologies are key drivers of services trade. Digital technologies are also reducing the cost of trading services. The report finds that if developing countries are able to adopt digital technologies, their share in world services trade could increase by about 15 per cent by 2040.
The report notes that policy barriers to services trade – mainly regulatory measures –are much more complex than in goods trade. The authors of the report note that for services trade to be a powerful engine of economic growth, development and poverty reduction international cooperation will need to be intensified and new pathways will need to be found to advance global trade cooperation and make services a central element of trade policy.

Source: Vitic/ wto.org