Indian paper highlights local business during DPRK-USA Hanoi Summit
Friday, March 1,2019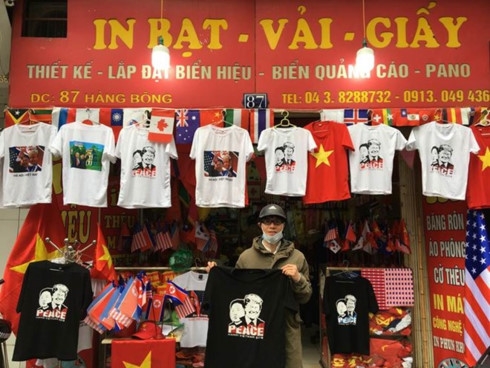 AsemconnectVietnam - The Indian Express of India on February 27 ran an article, describing the ongoing second summit between US President Donald Trump and DPRK leader Kim Jong-un as a good business opportunity for shops in the Vietnamese capital city of Hanoi.
In the article titled "Kim-Trump summit is good business for Hanoi shops", Neha Banka wrote "In the congested streets of Hanoi, local souvenir shops have been selling Donald Trump and Kim Jong Un memorabilia like T-shirts and commemorative stickers as well as flags of the two countries over the past few weeks."

In the Old Quarter, the historic centre of Hanoi where the summit talks will be held, most of the shops have been selling banners and flags. Local shops are opened at 9am and closed at night.

Local companies, government agencies and residents across Hanoi have been calling over the past week to place large orders for flags that are then displayed on storefronts and are mounted on lamp posts, the article said.

The author interviewed many local traders and residents who expressed their joy of the important political event.

They voiced their hope that the meeting will bring about peace to both US and the DPRK and the world at large.

Source: vov.vn