Hanoi to host int'l precision engineering, machine tools expo
Monday, October 1,2018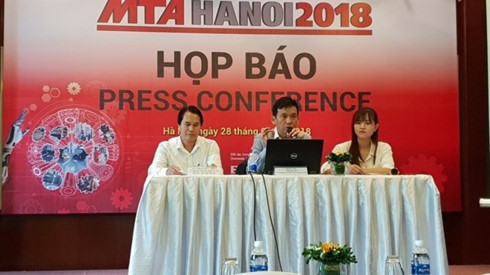 AsemconnectVietnam - As many as 165 companies from 15 countries and territories will participate in the 6th International Precision Engineering, Machine Tools and Metalworking Exhibition & Conference (MTA HANOI 2018), scheduled to take place in the city from October 16-18.
Covering an area of 4,300sq.m, the exhibition will showcase offerings and products covering a broad technology scope relevant to the manufacturing sector.

It will introduce a range of modern technologies and smart equipment from many famous brand names in the world.

Speaking at the press meeting held in Hanoi on September 28, BT Tee, General Manager of Vietnam – the organiser, said more than 75 percent of exhibitors at the event would come from foreign countries including China, Germany, Indonesia, Japan, the Republic of Korea, Thailand, the US and the UK.

The exhibition would be an opportunity for cooperation for leading firms in the supply chain of manufacturing and mechanics in the northern region, he said.

Pham Duc Thien, head of mechanical engineering under the Hanoi University of Mining and Geology, said the total capital of local mechanics businesses reached 360-380 million USD while the foreign investment in the sector in Vietnam was around 2.1 billion USD.

The figures will continue to increase in the upcoming time as Vietnam becomes a promising destination for foreign investors, Thien said.

He said that export volume of the mechanical manufacturing industry was expected to account for 35 percent of the total mechanical output by 2020, 40 percent by 2030 and 45 percent by 2035.

The strategy is to focus on development of some sub-sectors, such as automobiles, tractors, agricultural machinery, construction equipment, industrial equipment and electrical equipment to meet with the economy's requirements and partly for exports. In addition, mechanical workforce must be trained to meet the needs of modern manufacturing.

Nguyen Thi Mai Phuong, a representative from Cybertech Vietnam Company, said the exhibition would be an opportunity for Vietnamese firms to access advanced technologies, thus helping them deeply join into the production chain.

A range of seminars, interactive workshops and panel debates on some of the current issues affecting the manufacturing and precision engineering sectors, including forums on Industry 4.0 technology, blockchain and OT security system, will be held on the sidelines of the exhibition.

Source: vov.vn