Int'l textile-garment, footwear fairs slated for November
Thursday, September 27,2018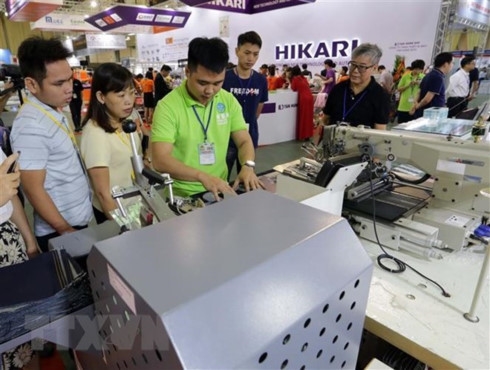 AsemconnectVietnam - A series of international trade fairs for the garments and textiles, as well as footwear sectors are scheduled to take place at the Saigon Exhibition and Convention Centre in Ho Chi Minh City on November 21-24.
The events will be jointly held by the Vietnam National Trade Fair & Advertising Company (VINEXAD), the Yorkers Exhibition Service Vietnam, and the Guangdong Sewing Equipment Chamber of Commerce, among others, with the support of the Vietnam Cotton and Spinning Association (VCOSA), the HCM City Association of Garment and Textiles (AGTEK), and the China Sewing Machinery Association (CSMA).

VINEXAD Director Pham Dang Khanh said the trade shows include the 18th edition of the Vietnam International Textile & Garment Industry Exhibition (VTG 2018) and the Vietnam International Textile and Apparel Accessories Exhibition (VitaTex).

The Vietnam International Footwear Machinery & Material Industry Exhibition (VFM), and the eighth Asia International Dye, Pigments, and Textile Chemicals Exhibition (INTERDYE ASIA 2018) will also be held concurrently.

The events are expected to feature over 600 booths of more than 400 businesses from 11 countries and territories, including China, Germany, India, Japan, the Republic of Korea, and Malaysia.

The trade shows offer a chance for Vietnamese firms to connect with international garment firms, which will in turn consolidate Vietnam's increasing position and role in the global market.

Nguyen Van Khanh from the HCM City Leather and Footwear Association said that Vietnam's garment-textile industry had one of the highest revenue and export value from around the world, ranking in the top five while raking in US$16 billion in the first half of 2018, up 14% year-on-year.

The free trade agreement between Vietnam and the European Union (EU) is hoped to create a positive influence for the country's garment-textile. In addition, the country has signed a number of agreements, notably the Comprehensive and Progressive Agreement for Trans-Pacific Partnership (CPTPP), which offer favourable conditions for the footwear sector.

Vietnam is home to some 700 footwear makers with about 1.5 million labourers. The country's footwear exports have enjoyed robust growth, reaching US$13 billion in six years from US$6.5 billion in 2011. The figure is projected to hit US$20 billion this year.

Vietnam's garment-textile sector holds great potential thanks to positive signs in 2018 and benefits accessed through the recent trade agreements, said Nguyen Binh An, VCOSA Secretary General.

The ASEAN Economic Community will also bring cooperation opportunities for Vietnam to seek suitable suppliers and establish a supply chain to raise the country's competitiveness in major markets of the US, the EU, and Japan, he added.

Source: vov.vn