WEF ASEAN 2018 comes to a close in Hanoi
Thursday, September 13,2018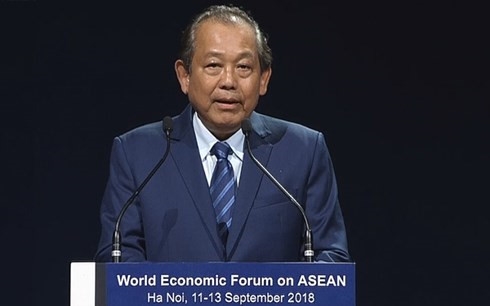 AsemconnectVietnam - The World Economic Forum on ASEAN (WEF ASEAN) 2018 themed "ASEAN 4.0: Entrepreneurship and the Fourth Industrial Revolution" has been successfully organized with nearly 60 working sessions, said Deputy Prime Minister Truong Hoa Binh.
The closing ceremony for the WEF ASEAN 2018 took place in Hanoi on the afternoon of September 13 under the chair of Deputy PM Truong Hoa Binh.
Today (September 13) is the last day of the forum and sees the most important event, "Vietnam Business Summit", where Prime Minister Nguyen Xuan Phuc delivered a keynote speech.
In addition to the summit, there are a host of bilateral activities and Deputy Prime Ministers will meet leaders of world leading finance groups and organizations.
The WEF ASEAN 2018, taking place from September 11-13 in Hanoi, draws the attendance of senior leaders of ASEAN state members and partner countries, approximately 1,000 representatives of the world's multinational corporations, ASEAN and international businesses and about 800 domestic businesses.
As the biggest multilateral diplomatic event hosted by Vietnam this year, the WEF ASEAN 2018 affirms Vietnam's role, reputation and prestige within ASEAN, the region and the world.

Source: vov.vn