Vietnam Manufacturing Expo returns to Hanoi
Friday, August 10,2018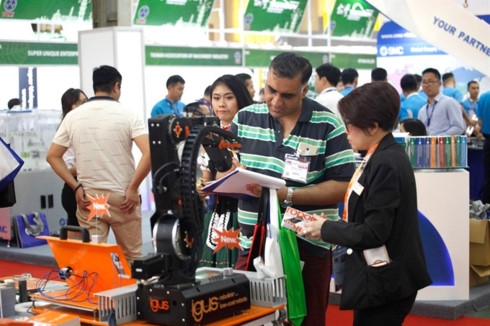 AsemconnectVietnam - The Vietnam Manufacturing Expo (VME) 2018 opened its doors on August 8 at the Hanoi International Exhibition Centre in the capital.
With more than 200 leading brands in the industry participating, including those from Japan, Singapore, Thailand and Taiwan, this year's edition aims to provide technologies, solutions and practical experiences about smart factories to help Vietnam manufacturers overcome challenges of Industry 4.0.
Smart factories in the Industry 4.0 era need a range of manufacturing technologies that fuse the physical and digital worlds, with breakthroughs in artificial intelligence (AI), robotics, the Internet of Things (IoT), metrology and 3D printing, the event's organiser – Thailand's Reed Tradex – said in a statement.
It cited a report from the Capgemini's Digital Transformation Institute as saying that in the next five years, smart factories may contribute as much as US$500 billion in added value to the global economy. Smart technologies offer an advantage for manufacturers, such as increasing output, quality and consistency.
Vietnam is in the early stage of manufacturing development, thus, domestic manufactures should take step-by-step moves to build their smart factories, suggested Suttisak Wilanan, deputy managing director of Reed Tradex at the event's opening ceremony.
The event will include a show on creating industrial networks beyond with four international pavilions, a showcase on industrial robots, a battle amongst Vietnamese welders to find the best of the best welders and a guided tour on state-of-the-art technologies and machinery.
The event will wrap up on August 10.

Source: vov.vn