ASEAN, New Zealand step up result-oriented cooperation
Tuesday, July 3,2018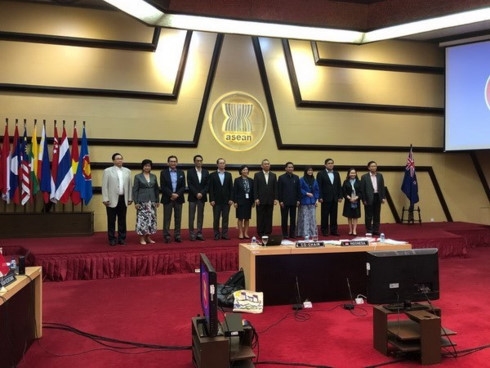 AsemconnectVietnam - The sixth ASEAN-New Zealand Joint Cooperation Committee Meeting was held in Jakarta, Indonesia, on July 2, according to the Vietnamese delegation to the Association of Southeast Asian Nations (ASEAN).
The meeting aims to assess the ASEAN-New Zealand partnership over the past year, especially the implementation of the Action Plan for 2016-2020 in order to realise the Joint Statement for the ASEAN-New Zealand Strategic Partnership for 2016-2020, the People Strategy and the Property Strategy.

The two sides noted with pleasure positive outcomes of cooperation in various fields in the year, and agreed to enhance result-oriented collaboration in the realms of shared concerns, especially in the areas of New Zealand's strength and ASEAN's priority like agriculture, English language training, vocational training, food security, natural disaster response and development gap narrowing.

Speaking at the event, New Zealand Ambassador to ASEAN Pam Dunn stressed New Zealand's policy of attaching importance to the affiliation with ASEAN and the country's support for the ten-member group in materialising the ASEAN Community Vision 2025.

New Zealand backs the central role played by ASEAN and will work to boost cooperation in narrowing development gap, the diplomat pledged.

Pam Dunn said New Zealand will extend the duration of its funding of the ASEAN-New Zealand Free Trade Agreement Economic Cooperation Programme until December 31, 2019.

The country will also actively participate in ASEAN-led regional mechanisms and contribute to peace, stability and security in the region, including the East Sea issue, he added.

The ASEAN side suggested building concrete measures to reinforce the bilateral cooperation in the areas of common concern, spanning politics-security, economy, culture and social affairs, especially in the implementation of the two above-mentioned strategies.

ASEAN and New Zealand elevated their relationship to a strategic partnership in November 2015 on the occasion of the 40th anniversary of their dialogue partnership.

They adopted the 2016-2020 Action Plan with the centre being the People Strategy and Property Strategy.

Also on the occasion, the New Zealand Government committed to contributing 200 million NZD (US$134 million) to effectively implement the two strategies.

The seventh ASEAN-New Zealand Cooperation Committee Meeting is scheduled to take place in 2019.

ASEAN groups Brunei, Cambodia, Indonesia, Laos, Malaysia, Myanmar, the Philippines, Singapore, Thailand and Vietnam.

Source: vov.vn