Vietnam, Sri Lanka look towards stronger ties
Tuesday, April 18,2017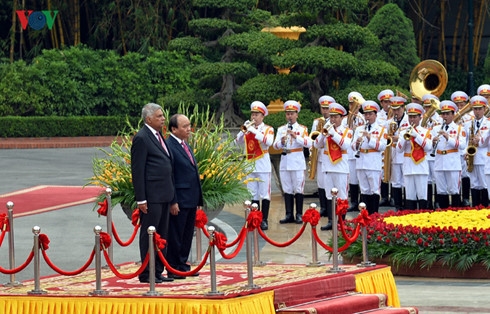 Vietnam and Sri Lanka have agreed to promote affiliation in politics and external affairs by promoting high-level delegation exchanges, and relations between the Party, State, Government, and parliaments and people-to-people exchanges.
The agreement was reached at talks on April 17 in Hanoi between Prime Minister Nguyen Xuan Phuc and his Sri Lankan counterpart Ranil Wickremesinghe who is on an official visit to Vietnam April 16-18.
They reiterated determination to lift their relations to a higher level for mutual benefit and noted with satisfaction over the flourishing traditional friendship and all-around cooperation between Vietnam and Sri Lanka over the past 47 years since they established diplomatic ties in July 1970.
The two PMs agreed to boost collaboration in security-defence and share information and experience in legal execution, combating cross-border crime, addressing post-war consequences, and joining the UN peacekeeping activities.
They consented to realize effectively the current bilateral cooperation mechanisms, including the organization of the fourth meeting of the joint committee and the third political consultation this year.
The leaders also underlined the bilateral enormous cooperation potential in trade, economics, and investment
agreed to actively implement the agreement on investment encouragement and protection and sign new cooperation deals to fit new circumstances.
To reach the US$1 billion two-way trade target in the years to come, the two sides pledged to urge relevant agencies to devise specific measures to augment bilateral cooperation in the fields of their strength, such as oil and gas, infrastructure, information technology and communication, garment-textile, farm produce processing and distribution, and seafood.
They were committed to place priorities on cooperation in other important realms such as energy, tourism, education, human resources development, and cultural exchanges.
The two government leaders also underscored the importance of stepping up aviation connectivity as the better way to help promote bilateral trade, tourism and people-to-people exchanges.
The two PMs vowed to work hand in hand at regional and international forums, while strengthening cooperation between the Association of Southeast Asian Nations (ASEAN) and the South Asian Association for Regional Cooperation (SAARC) for peace, stability, cooperation and development in Asia.
The two sides emphasized the significance of maintaining peace and stability in the East Sea as well as navigation and aviation safety, and removing trade barriers and settling disputes and differences via peaceful means and in line with international law.
After the talks, the PMs witnessed the signing of two cooperation agreements, including a cooperation plan on agricultural development in 2017-2019, and a cooperation agreement on education in 2017-2021 and met with the media to inform about the outcome of their talks.

Source: vov.vn