Hoa Phat Group: 25 years of construction and development
Friday, April 21,2017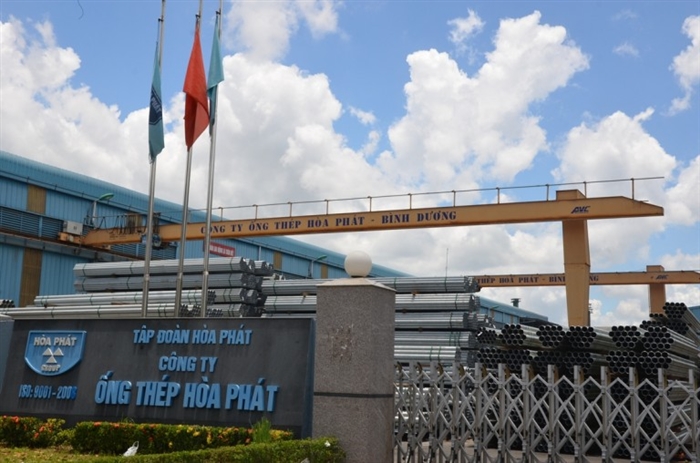 AsemconnectVietnam - 25 years of construction and development with the spirit of business philosophy "Harmony and development", Hoa Phat Group has robustly emerged to become a leading steel brand in Vietnam with 22 per cent of construction steel market share and 26 per cent of steel pipe market share.
Recently, this giant group expressed its determination to side with Quang Ngai province when officially kicked off Hoa Phat Dung Quat Steel Complex in early February.
Hoa Phat Group, founded in 1992, is mainly specialised in construction steel, steel pipe and galvanised steel production; refrigeration, furniture, machinery and equipment; real estate (industrial and housing property); and agriculture (animal husbandry and animal feed production). At present, steel production is the core business that accounts for over 80 per cent of the group's revenue and profit.
Currently, Hoa Phat is leading the country in construction steel, steel pipe and office furniture. Not only being a leader in many industries in the country, the group has also strongly exported its products to many countries and regions in the world such as the United States, Canada, Australia, Japan, South Korea, the Middle East and ASEAN. Its products have won the trust of customers.
Hoa Phat has very strong finances and continuously achieves high growth rates. In 2016, the group attained revenue of VND33,885 billion and a net profit of VND6,606 billion, up 34 percent and 89 percent over 2015, respectively. Its total assets valued VND33,227 billion by the end of 2016. With its outstanding production and business achievements and contributions to the State Budget, Hoa Phat Group has been repeatedly named the National Value of Vietnam, Top 10 Most Successful Private Enterprises, Top 30 Taxpayers, and Top 30 Best-performing Enterprises in Vietnam.
Not only affirming its leading position in industrial manufacturing industry, Hoa Phat Group also always attaches great importance to long-term and sustainable development and upholds environment-friendly pro-community lifestyle. Mr Tran Tuan Duong, General Director and Vice President of the Board of Directors, said, "As a big Vietnamese company, we are well aware of our position and responsibility to the country's socioeconomic development. Therefore, investing to apply the most advanced and environment-friendly technologies to production towards sustainable development is always a top priority in Hoa Phat Group's business strategy. The group's business philosophy is "harmony and development" where all our policies and business orientations are based on harmony, that is to say, the harmony of interests of the group with customers, partners as well as community and society. Only by doing so does Hoa Phat Group secure long-term sustainable development. With any business, from construction steel, steel pipe, furniture and agriculture to real estate, Hoa Phat Group also starts from that philosophy. Besides, we always respect honesty, transparency and reliability. Indeed, 25 years of our development on the market has asserted our distinctive business culture."
Hoa Phat Dung Quat Iron and Steel Production Complex was invested by Hoa Phat Dung Quat Steel Joint Stock Company, a member company of Hoa Phat Group, and was approved by the Prime Minister in Document 152/TTg-CN dated January 25, 2017.
The steel production complex in Dung Quat Economic Zone was revitalised from moribundly stagnated Quang Ngai Quang Lien Steel Complex project, invested 10 years ago. This project was already included in the Vietnam Steel Production and Distribution System Development Plan to 2020, with a vision to 2025, approved by the Minister of Industry and Trade in January 31, 2013.
Hoa Phat Dung Quat Iron and Steel Production Complex has an investment capital of VND52 trillion and a designed annual output capacity of 4 million tonnes with main products being construction steel, high-quality steel coils and hot-rolled coils. The complex is powered by closed blast furnace technology successfully deployed by Hoa Phat Group in Hai Duong province, but stuffed with more advanced features and more modern equipment imported from G7 countries. This is an advanced, modern, environment-friendly technology. Coke production will use coke dry suppression technologies which will retrieve all heat and emissions, eliminate by-products to generate electricity for production. Water used in production is also circular or not discharged into the environment.
In addition, the complex will build a specialised deep-water seaport system for vessels of over 100,000 tonnes, enabling Hoa Phat Group to easily transport inputs and outputs to domestic and foreign markets.
The project is divided into two phases. Phase 1 will be deployed in 24 months, starting in February 2017, aiming to turn out 2 million tonnes of long steel a year (including million tonnes of long construction steel and 1 million tonnes of premium long steel.)
Phase 2 will produce 2 million tonnes of hot rolled coil steel a year for mechanical engineering, scheduled to be deployed from August 2017. The entire project will be completed by the end of 2019, generate annual revenue of US$2 billion a year upon stable operation, and employ 8,000 workers. The project will significantly help increase industrial and service value of the province and pay VND4,000 billion to the State Budget each year upon full operation. More importantly, it will create robust momentum to drive up local industrial development and side with Quang Ngai province on the path of accelerating the process and fulfilling the goal of becoming a modern industrial province by 2020.
General Director Tran Tuan Duong said, "Although Hoa Phat has just embarked on the project in Quang Ngai province, it is easy to see that local authorities, from top provincial leaders to branch leaders, particularly the Dung Quat Economic Zone Management Board, always support us with their best, especially on procedures that may affect the project, to help us keep up with the construction schedule and other requirements. We highly appreciate the effort of Quang Ngai authorities in investment attraction and economic development. The provincial government also pledged to provide the best conditions for Hoa Phat Dung Quat Iron and Steel Production Complex to be deployed in the most advantageous manner. Particularly, the Provincial People's Committee also established a cross-sector working group chaired by Mr Dang Van Minh, Permanent Vice Chairman of the Provincial People's Committee, to assist Hoa Phat Group to carry out its project in Dung Quat Economic Zone."
In response to this great support, Hoa Phat Group is committed to completing the Hoa Phat Dung Quat Iron and Steel Production Complex on schedule and to complying with all State regulations related to the project. The sooner the project goes into production, the greater the group generates investment efficiency, employment and budget revenue for the province. "For Hoa Phat, this is a long-term strategic project in the core business that helps us improve competitiveness, expand steel value chains and boost the capacity of Vietnamese steel industry while raising the value for the community, partners and shareholders of the Group," he said.
N.Nga
Source: vcci.vn