Rice quality key to exports
Monday, November 18,2019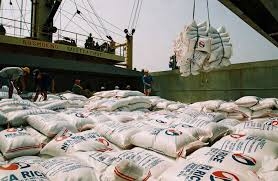 AsemconnectVietnam - Vietnamese rice producers and exporters needed to focus on quality and supplying products that were in demand, rather than simply looking at quantity, according to the Agricultural Products Processing and Development Department under the Ministry of Agriculture and Development (MARD).
The total rice export volume and value in the first ten months of this year reached 5.56 million tonnes and US$2.43 billion, respectively.
The figures represented a rise of 6.1 per cent in volume and a drop of 9.1 per cent in value compared to the same period in 2018.
Viet Nam's five per cent broken rice is now fetching $350 per tonne, the highest level in the past two months, but still lower than that of India ($365-370 per tonne) and Thailand ($395-400 per tonne).
In the first seven months of this year, Vietnamese rice exports to China decreased by 67 per cent to 400,000 tonnes, whereas in the past China often imported up to two million tonnes of rice from Viet Nam annually.

The decline had knocked China off top spot as the country's main export market, accounting for just over 8 per cent of Viet Nam's total export value, Minister of Agriculture and Development Nguyen Xuan Cuong said at a seminar on Thursday.
Meanwhile, Cambodia, another rice exporter in the region, has increased exports to China.
According to the Cambodia Rice Federation, Cambodia's rice exports to China rose sharply in the first nine months of this year, reaching nearly 158,000 tonnes, up 44 per cent from the same period last year. In 2019, the country plans to export 300,000 tonnes of rice to China and raise the figure to 400,000 tonnes in 2020.

Cambodia prioritises the production of organic rice to offer clean materials that meet market demands and ensure the sustainable growth of rice exports.
In terms of rice export volume, Viet Nam exports on average five to seven million tonnes of rice annually, making it one of the world's top three largest rice exporters. In 2018, Viet Nam exported more than six million tonnes of rice while Cambodia sold only more than 626,200 tonnes.
However, in terms of quality and brand, Cambodian is gradually becoming a formidable opponent in the region.

At the 10th TRT World Rice Conference 2018 held on October 2018 in Ha Noi, Cambodian premium fragrant rice, Malys Angkor, won the World's Best Rice award.
Cambodia is also among the top five organic rice exporters to the EU market, behind only the US, Pakistan, India and Thailand.
Regarding export markets, Vietnamese rice is now exported to 150 countries and territories in the world, but mostly in the low price segment.
Cambodia now exports rice to a few dozen countries, mainly picky markets.
According to Minister Cuong, in the long-term strategy, the agriculture sector should look at reducing the total area of rice plantations to a level that ensured food security and partial exports.

Cuong said the domestic market needed to ensure supplies and the quality of rice and packaging. Regarding export markets, Viet Nam should promote and expand markets, for example, in Africa and the Middle East, as well as regional markets such as Indonesia and the Philippines.
At The Rice Trader (TRT) World Rice Conference 2019 in Manila, the Philippines, Viet Nam's organic rice from Soc Trang ST24 was crowned the best in the world on Tuesday. This is a good first step towards improvement of the country's rice quality.
Source: VNS