Cao Bang Grass Jelly: A summertime treat
Tuesday, August 7,2018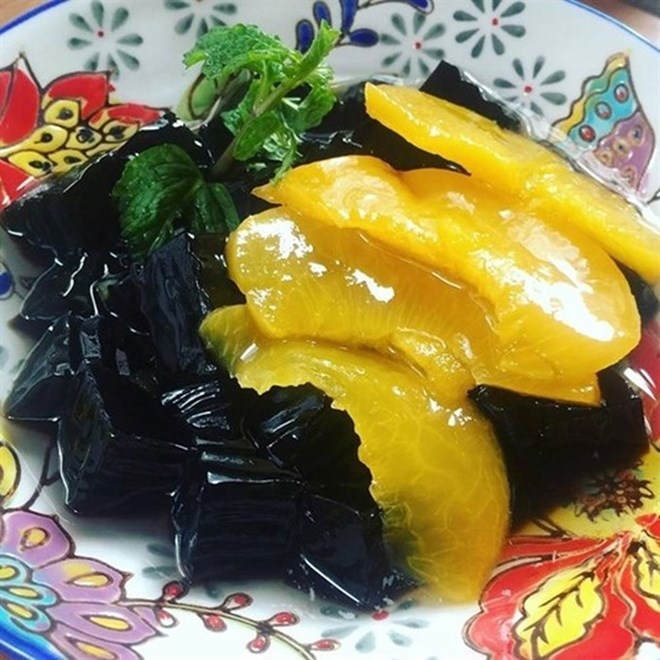 AsemconnectVietnam - Sweet soup, soya bean curd or mixed jelly are popular snacks for Vietnamese people, especially in the hot days of summer. They all have things in common – they're delicious, fresh and many of them contain one tasty ingredient: black grass jelly.
The grass jelly is an indispensable ingredient for a delicious cup of sweet soup or soya bean curd of all flavours. It can also stand independently as the main part of a tasty snack such as 'grass jelly with caramel' or 'grass jelly with lotus seeds and coconut milk'.

Jelly comes in plenty of flavours. From the natural flavour of lemon jelly to the fresh gracilaria jelly, from the strong flavour of coffee to the sweetness of coconut jelly. But grass jelly is one of a kind, not only because of its unique flavour, but also because of the land where it comes from.

Cao Bang province is famous for this unique kind of jelly.

Cao Bang is in the northeast of Vietnam, with many pristine mountains, forests, rivers and attractions like the majestic Ban Gioc Water Falls or Pac Bo Cave where President Ho Chi Minh used to live and work during the war against the French colonialists.

With the mild sub-tropical climate of the northeast, this mountainous province is a perfect land for planting and harvesting the main ingredient to make grass jelly.

Thanks to the climate, farmers rarely need to use fertiliser or any plant protection products. With more than 350ha of area growing the raw materials for grass jelly all over the province, cooks from Thach An district, which has a long tradition of producing most of the Cao Bang products from grass jelly, receive quintals of grass jelly tree every year, in order to bring delicious cubes of unique black grass jelly to everyone.

With more than 20 years of experience, Phan Thi Thuy's family is one of many other families in Thach An district who make grass jelly for a living.

The process of making jelly is not complicated, but requires a very carefully hand, especially in washing the grass jelly leaves.

"I have to purify the dried leaves very carefully. Just like washing clothes, you can't leave any dust, or else the quality won't be guaranteed and the leaves can't be used. After three hours of boiling and non-stop stirring, the grass jelly will start to expand and develop a sweet flavour. After that, it goes through another washing process, and after being rinsed three times in clean water and filtered with fabric to eliminate the scum, I can finally have a big cauldron of pure grass jelly water," Thuy said about the meticulous work that goes into clean and fresh grass jelly.

Hand-made black jellies made by Thach An ethic people is popular
After purification, the mixed grass jelly water will be boiled for two more hours before sugar and tapioca powder is added to create flavour and condense the mixture into cubes. After being divided into 1kg slabs and cooling down, tasty grass jellies are ready to serve.

"With more than 20 years of experience making jelly, I put my family reputation on top of everything. It's the matter of bringing the best and also the cleanest jelly to everyone. If the leafs aren't purified enough, I have to throw them all away. Ensuring food safety is paramount, it's all about the health of customers and it is a responsibility which every cook must have," she added.

Every day, hundreds of boxes of jelly from Thach An are sent to countless shops and made into delicious sweet soups or soya bean curds to please customers in Vietnam.

"Whenever I eat a summer snack, I have to add many grass jellies. The flavour is so unique, it's a combination of the sweetness of sugar and the grass jelly herb which is very tasty and fresh. I add grass jelly to every snack I eat, from black bean sweet soup to soya bean curd and with coconut milk and dried coconut, everything is perfect," said Dao Ngoc Minh, 16, a student of Yen Hoa High School in Hanoi.

"I don't know why but every time I eat something with jelly, I feel really refreshed, especially the black grass jelly. That's why my mother always make me black bean sweet soup with a large amount of jellies during the summer and it saved my life during the horrible stress of this year's national high school exams," said Tran Minh Chau, a 12th grade student from Viet Duc High School in the capital.

With all-natural ingredients, there is no doubt about the health benefits provided by grass jelly. According to Dr. Nguyen Van Hung from the Traditional Medicine Association of Hanoi, with its high levels of polyphenol, tannin and pectin, grass jelly is a precious medicine with a sweet flavour and cooling effect. It helps to lower blood pressure, treat joint pain and support the liver, help with diabetes. It also has anti-aging properties and lowers cholesterol.

"Grass jelly is good but if eaten too much, it may affect the ability of the body to absorb protein. For children, jelly reduces appetite and absorption of nutrients. The most dangerous risk is producing and selling chemical grass jelly in polluted places. I have seen many emergency cases because of eating dirty and out of date items," Hung warns.

Luckily, a Cao Bang food company, recognised by the Ministry of Agriculture and Rural Development in May 2016 for their product 'Cao Bang Grass Jelly', has received good feedback from consumers as a leading producer in field of hygiene food.

"My family enjoys Cao Bang food so much because it is very clean, safe and healthy. We all feel cool in summer after eating it. The most important is that Cao Bang grass jelly is ensured to not contain any additives, chemicals or artificial colour which makes me feel safe as a consumer," said Nguyen Thi Ha, from Hanoi's Cau Giay district.

Hà added that the jelly is more enjoyable when mixed with tea, yogurt and honey.

"This food has secured and preserved the faith of many families around the country. It is a real specialty of Vietnam," said Pham Tuan Hai, former jury member of Master Chef Vietnam.

Source:VNS/VNA