Ladophar affirming brand by product quality
Tuesday, June 25,2019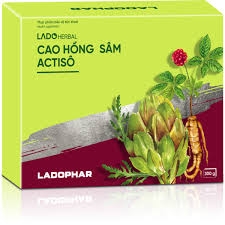 AsemconnectVietnam - Under the light of its business principle "Product quality placed on top", after 36 years of development, Ladophar has confidently risen to affirm its prestige on the market and to consumers, and become a strong brand and pride of Vietnam pharmaceutical industry.
Persisting with its mission of caring for and protecting community health with innovative solutions from natural medicinal plants, in the past years, Ladophar has focused on utilizing advantages of Da Lat artichoke and conducting research on production of pharmaceuticals, mainly originated from artichoke - a national medicinal plant which Ladophar has studied and significantly invested in, thus helping the locality to keep the stable local medicinal herb source. Importantly, the company has invested in building essential foundations to create best products and stand firm on "4 legs": Natural inputs of high quality; quality and modern production system; experienced and professional researchers; and prestigious partners in Vietnam and in the world.
To develop quality, sustainable products, the company must have standard input materials that meet all food safety and hygiene requirements. For that reason, Ladophar has cooperated with farmers to build artichoke growing areas and other precious medicinal herbs in Lam Dong province to meet international standards such as GACP-WHO (Good Agricultural and Collection Practice) and GlobalGAP (Global Good Agricultural Practice). The firm has also supported farmers with seedlings, techniques and technologies, and guaranteed to buy their products, thus helping improve income and livelihood for local people.
In order to bring herbal essences into high quality products that help care for and protect human health, Ladophar gives priority to investment in modernizing machinery and technology. Currently, the company is running three large-scale factories certified with GMP-WHO (Good Manufacturing Practice of the World Health Organization) for pharmaceutical production industry in Vietnam and HACCP (Hazard Analysis and Critical Control Points) for functional food production industry. Inputs, after being evaluated and inspected for quality (sensory indicators, physicochemical, pharmaceutical property) will be processed with self-contained production lines to retain important pharmaceutical properties and characteristic taste of each medicinal material within mandatory criteria. This is also an important factor that makes all Ladophar herbal products benign, highly effective, and safe for users.
The quality of Ladophar's products is also elevated by its highly knowledgeable, intensively experienced specialists led by excellent physician Pham Thi Xuan Huong, General Director of Ladophar. They have constantly researched and developed healthcare solutions from precious medicinal herbs to make a series of four product lines featuring the essence of Da Lat medicinal herbs, including LadoActiso - Effective liver medicine, LadoHerbal - Herbs for healthcare, LadoDetox - health from inside, and LadoBoost - Recovery of energy regeneration. To ensure the quality, efficiency and safety of each product sold to consumers, Ladophar strictly controls the entire supply chain, from raw inputs to finished outputs, with its quality assurance system certified GMP-WHO standards. This is also a solid foundation for Ladophar products to secure a firm foothold in the market, from the list of specialized medicines and pharmaceuticals to functional food products, which are selected by specialists and chosen by consumers.
Ladophar is currently providing medicine products for hospitals and other healthcare facilities throughout the country. In addition, its high-quality products are distributed through prestigious supermarket chains like Co.opMart, BigC, Lotte Mart and Aeon Mall, and retail stores and pharmacies across the nation. Ladophar also supplies high-quality materials for pharmaceutical companies, domestic and international functional food manufacturers such as Central Pharmaceutical Joint Stock Company 2 and BV Pharma Joint Stock Company. Going beyond the national border, Ladophar's products are now being exported to strategic markets such as South Korea and neighboring countries in the Asia-Pacific region. Quality inputs, production lines and Ladophar specialists have conquered strict standards of reputable research and production partners such as Rohto Health Science - the medicinal food brand of Rohto Mentholatum Vietnam Company, and Viromed - a leading bio-pharmaceutical company in South Korea. At the beginning of the second quarter of 2019, Ladophar and GSPOON also signed a memorandum of cooperation on product development research and distribution for the South Korean market, laying the groundwork for the Vietnamese Medicinal Essence to conquer the high-end market segment.
In early 2019, Ladophar officially announced the new brand identity of "LADOPHAR Dalat Since 1982", with the icon of artichoke with a half of fresh flower and a half of the extracted essence, meaning that the mission Ladophar has pursued since 1982 in Da Lat is to turn precious herbs from nature, through modern technology combined with the know-how of experts, into high-effective and bio-effective herbal essence products for community healthcare and disease treatment. "We understand more than anyone else that health is one of the values, the most valuable asset in every human being. Therefore, in the future, Ladophar will further promote its available potential advantages, expand medicinal planting projects, research and develop more new product lines from natural herbs in Vietnam, supply domestic and foreign markets with high-value medicinal products to prevent, protect and improve human health. This is also a way for us to fulfill our aspirations to turn local medicinal potential into healthcare products, increase the brand name of Da Lat - Lam Dong to the world," General Director Pham Thi Xuan Huong stressed.
N.Nga
Source: VITIC/Vccinews.vn