Vietnam Australia Bac Lieu Co., Ltd: Excellent shrimp breeder
Monday, May 27,2019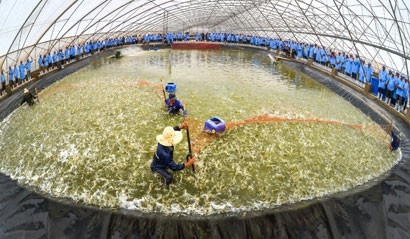 AsemconnectVietnam - Shrimp farming is a major economic sector in Bac Lieu province and a breadwinner for many local people. However, this is a risky business because it is largely dependent on weather conditions, disease conditions and breeds. The presence of Vietnam Australia Co., Ltd is the key for farmers to deal with these existing difficulties.
Established in May 2010 in Bac Lieu province with the primary business of shrimp breeding for Mekong Delta provinces, Vietnam Australia Bac Lieu Co., Ltd is one of four shrimp production facilities of Vietnam Australia Company (located in Binh Dinh, Ninh Thuan, Binh Thuan and Bac Lieu provinces), all wholly foreign-invested. Applying the GlobalGAP-standard production processes, in 2012, Vietnam Australia Co., Ltd supplied 4 billion baby shrimps for the southern market, exceeding the initial target of 500 million. In 2013, the company plans to expand its production area to supply 6 billion baby shrimps which will meet 80 per cent of the demand in the province. This production output makes the company the largest shrimp breeder in the Mekong Delta.
Vietnam Australia Company applies three business norms, namely quality, price and service. With modern equipment and machinery and advanced manufacturing processes, the primary goal of the company is to produce disease-free shrimps. The company does not use any antibiotics, only probiotics. The firm strictly practices bio-security procedures and imposes stringent quarantine of brood stock shrimps imported from Singapore, the United States and Australia. Hence, the quality is ensured at 80 - 82 per cent. All feed for post shrimps (sugpo shrimp and white-leg shrimp) is Artemia feed recommended for use by engineers of foreign manufacturers. Besides, Vietnam Australia Company also invested in a 5-6 ha experimental zone to test for disease resistance and growth of shrimp in order to guide farmers to take better care of their shrimps. With its effort, Vietnam Australia Bac Lieu Company has quickly become a leading producer of broodstock shrimps and baby shrimps in the Mekong Delta region.
The company also ensures stable employment and income for its employees. Mr Quach Hon Khoa, Deputy Director of Vietnam Australia Bac Lieu Company, said, "The company now has 348 full-time employees who are all given social insurance and paid average monthly salary of VND10 million. Employees are also offered three free meals (breakfast, lunch and dinner) and even accommodations if their homes are far away. In addition, Vietnam Australia also participates in many social welfare programmes like building charity houses and providing relief for three wounded soldiers.
To assert its prestige, Vietnam Australia is coordinating with international research institutes to acquire technologies to build a self-contained production process. This is considered a major step forward for Vietnam Australia Co., Ltd to build up its name in Vietnam and the world as well.
N.Nga
Source: Vccinews.vn