Duc Loi Bac Lieu Co., Ltd constantly innovating
Sunday, May 26,2019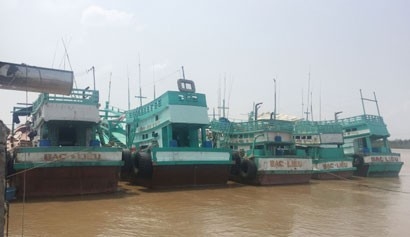 AsemconnectVietnam - Over the past years, Duc Loi Bac Lieu Limited Liability Company (Co., Ltd) has overcome difficulties and challenges to stand firm on domestic and international markets with modern production lines. Its products' quality is increasingly enhanced. On that journey, the company learned how to constantly innovate and build the trust of customers as a sustainable goal.
"The company has created a solid foundation for development with products that are strictly tested for quality. Currently, our products are available in big markets like China and many demanding markets like Korea and Japan," Mr. Lien Duc Loi, Director of Duc Loi Bac Lieu Co., Ltd, said. Another an advantage for the company when choosing Bac Lieu as an investment destination is that the locality has early identified agriculture, with the focus on improving the efficiency of shrimp production, as one of 5 pillars of socio-economic development, according to Resolution of the 15th Provincial Party Congress.
Known not only for seafood products such as shrimp, Duc Loi Bac Lieu Co., Ltd is also an outstanding enterprise in the business of logistic services such as ice production for marine fishing processing; closed fishing chain including logistics and purchasing. Duc Loi factory scale produces over 2000 tons of raw materials/year. The company has 7 offshore fishing boats with over 140 people on the fleet. This is considered an important step for the unit to proactively seek sources of materials, meeting the increasing market demand.
With the current open economy, the strengthening of cooperation is always the key direction of Duc Loi Bac Lieu Co., Ltd. Mr. Loi also expressed his desire that the government create more favorable conditions for this activity, because it is the fastest way to approach investors, actively speed up the transfer of technology, machinery and vessels. Currently, the enterprise has approached Dutch investors. In the immediate future, the company is focusing on the project of seafood processing factory with a new production line (with an area of 5 ha, investment capital of VND 80 billion) such as fish oil pressing, flour milling, finished product processing, founded by Duc Loi Bac Lieu Co., Ltd. A cold storage facility in Tra Kha Industrial Park, Bac Lieu Province is also being established to contain finished products of the company and directly export, together with a packaging factory with a project scale of 40 VND billion and also Duc Loi Tra Kha Company. Duc Loi is gradually creating its own brand associated with the potential of the province, associated with standards of food safety and hygiene, protecting consumers' health.
Bac Lieu has many advantages, however, people as well as small and medium enterprises still have great limitations in accessing loans, especially in shipbuilding loans for offshore fishing. According to Mr. Loi, this is a bottleneck that needs to be solved to effectively exploit the local marine fisheries potential.

In addition, the company also hopes that the locality will focus on completing infrastructure, building a large road and bridge to help goods circulation in a timely manner, cutting costs as well as improving competitiveness. As an annual import-export unit working with many big partners, Mr. Loi also expects the immigration of the province to be more open, transparent and quick in action. 2019 is determined to be the year of a "sprint" to successfully implement the resolutions of the whole term, Duc Loi himself will draft "big scripts" to improve the brand and make it one of the potential enterprises of the province to exploit the advantages Bac Lieu holds.
N.Nga
Source: Vccinews.vn