Vissan: Affirming Vietnamese brand name
Friday, May 24,2019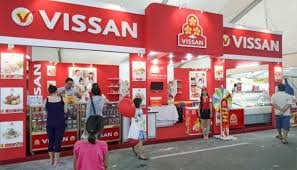 AsemconnectVietnam - 2018 was a challenging year for all businesses in the field of food processing and trading. Vissan is no exception, and was also put under pressure, but thanks to dynamics, proper humanitarian business approach and especially timely restructuring, Vissan has not only overcome difficulties, but also obtained impressive business achievements.
In the current difficult situation, if businesses want to overcome difficulties, they have to advocate for the right strategy rather than relying on any miracle. Facing this situation, the Government has called for restructuring enterprises. For Vissan, this problem is no longer a current development, because the company has implemented restructuring, after years of being a state-owned enterprise. As a key enterprise of Ho Chi Minh City, Vissan has embarked on corporate restructuring and technology innovation to get the current synergy.
Especially Vissan has been implementing a closed link in production to ensure efficiency and product quality in order to exploit the most power to help the company grow. The important thing to successfully build the chain of links is that Vissan has assigned to each stage, in which Vissan always plays an active and persistent role with the goal of developing human resources in association with restructuring management apparatus structure and reforming the entire business policy for distributors and agents; restructuring the profit rate in each stage.
The bold restructuring in advance to reduce difficulties, helping the company to operate effectively, reducing unnecessary costs, streamlined apparatus, offering quality products suitable to the market and guiding the company to sustainable development model, have helped Vissan gain positive business results, ensuring the future for employees. This is a common lesson for businesses in a time of difficulty. They should timely restructure to drive the company to develop. Specifically, Vissan has changed its retail model, changed its design and expanded its product range. Many Vissan stores have been upgraded. It has invested VND8 billion to design new models. There are new products such as shaking-up sausage and pasteurized sausage provided for direct trading channels between businesses (B2B) and restaurants - hotels - schools channels (Horeca), many canned and chilled meat products and meat flavor seasoning. Currently, the company has launched non-antibiotic herb pork products and put into the first store operation in the chain of high-class food stores VISSAN PREMIUM at 251 Le Thanh Ton, Ben Thanh Ward, District 1, Ho Chi Minh City.
Vissan has always focused on building the image of a strong and familiar brand, always identifying the position of the brand with competing units through consumer awareness to timely match appropriate strategies to dominate the domestic market and foreign markets in the future. And no matter how good a brand is, if product quality is not good, it is difficult to stand firm in the market. Recognizing that, the company has always put product quality first and build brand on the foundation of product quality. Vissan has done this very well in the past years, because food has a direct effect on people's health and life, the company always ensures to provide the best and cleanest food for the market.

Therefore, Vissan has been repeatedly voted as "High quality Vietnamese goods" by customers for many consecutive years, which also shows the customers' absolute belief in Vissan's products. According to Mr. Nguyen Ngoc An, General Director of Vissan, this is a joy and pride of all employees of the company, because their contributions have been recognized. Customers also greatly motivate the company to grow more and more. Customers always have high expectation of the products of the company and Vissan has researched and innovated to produce good product lines that do meet the expectations of consumers.

Talking about the direction of developing the distribution system in the future, Mr. Nguyen Ngoc An happily said: In the strategy of building distribution system, Vissan is focusing on exploiting the distribution channels of the other retailers such as Co.opmart, Vinmart, Satra Food. Up to now, with modern management methods in accordance with the market, the company's products have been available in more than 1,000 supermarkets and commercial centers of the country. Besides, the demand of consumers is getting higher and better, grasping this trend, Vissan is developing a convenience store chain. In the coming time, in addition to the common goals such as network development, product quality assurance, the company has many goals such as launching new product lines suitable for the new era such as processed foods and instant food to be used immediately and processed food originated from natural ingredients. In the coming time, the company will continue to develop and expand the model of VISSAN PREMIUM store in Ho Chi Minh City to meet the increasing demands of consumers about nutritional products and traceability of goods.
In 2018, Vissan faced many difficulties due to the continuous increase in pork prices. The average price of live hog pork increased by 48.8% compared to 2017, leading to an increase in the price of finished products and a decrease in the number of customers. On the other hand, the market share of fresh food is also shared with many businesses in the same industry. In order to limit the price increase of pork, the company has increased strict control of input materials, increased saving in production and business. As a result, Vissan's revenue in 2018 reached VND4,467 billion, an increase of 15% compared to 2017; profit before tax reached VND175 billion, up 6% over the same period. In terms of volume, Vissan had 25,515 tons of fresh food, up 2%; processed food reached 22,660 tons, up 19% over the same period.
According to the plan, in 2019, Vissan will strive to bring the total revenue to VND4,850 billion, up 9% compared to 2018; profit before tax is targeted to reach VND200 billion, up 14%. Vissan will strive for 28,090 tons of fresh goods to market, an increase of 10%; processed food products 24,930 tons, up 10% compared to the same period of 2018.
With a professional working style to grab the opportunities, anticipating difficulties and motto of effective humanities, we believe that on Vissan's integration path, it will become a more and more strong brand, not only in Vietnam and but also reaching out to many countries around the world.
With strong development and positive contributions to the socio-economic development of the country, Vissan was honored to be awarded the title of Labor Hero by the Party and the State for its exceptional achievements and many merit certificates from the Government, Ministries and departments, Ho Chi Minh City People's Committee and related organizations. These are noble titles, once again affirming the recognition and evaluation of the Party and the State. Talking with us about the above achievements, Mr. Nguyen Ngoc An could not hide his pride and said: Currently, Vissan has nearly 4,500 employees with professional skills and experience. However, if you do not know how to arouse pride and how to promote the advantages of the employees, how to harmonize and promote the collective strength, the success is only a distant destination.
Therefore, in the success of Vissan today, it is worth mentioning the sacrifices and great contributions of the previous generations, the enthusiastic leaders who did a lot of hard work to lay the first bricks to build the foundation for the development of Vissan as strong as today. They are teachers and colleagues who always stand by, always share valuable experiences for the next generation and promote the tradition of a united and heroic team. Their great dedication and sacrifices gave Vissan today's pride so that Vissan can confidently affirm its position and prestige in the market.
N.Nga
Source: Vccinews.vn