Techcombank targets US$504.3 million in pre-tax profit
Wednesday, April 17,2019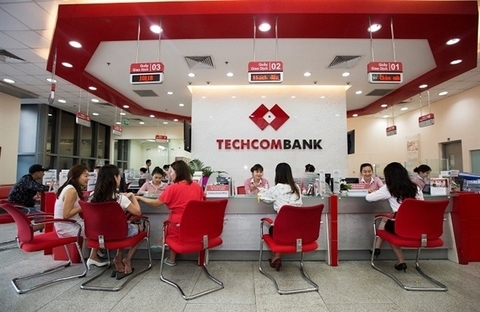 AsemconnectVietnam - Techcombank has targeted a pre-tax profit of more than VND11.7 trillion (US$504.3 million) in 2019, representing a 10 per cent year-on-year increase.
The target was approved at its annual shareholders' meeting held in Ha Noi last week.
It also planned to increase its total assets by 17 per cent to VND375.8 trillion this year while holding outstanding loans at VND245.4 trillion, up 32 per cent from last year. Its bad debts would be limited to less than 2.5 per cent in 2019.
In 2018, Techcombank achieved high business results. Its pre-tax profit was up 32.7 per cent from the previous year at more than VND10.6 trillion.
These helped the bank achieve return on average assets (ROAA) of 2.9 per cent and return on average equity (RAE) of 21.5 per cent.
Nguyen Le Quoc Anh, Techcombank's CEO, said the two criteria had not only been among the highest among banks in Viet Nam but also surpassed big scale banks in India and Thailand.
In addition, Techcombank successfully mobilised capital to raise its capital adequacy ratio (CAR) to 14.3 per cent, much higher than the level stipulated by the State Bank of Viet Nam as well as the minimum level according to Basel II.
Techcombank was among the few commercial banks last year which were assigned higher credit growth limits of 18 per cent with priority given to those who met Basel II's capital safety and risk management standards ahead of schedule.
"The bank plans to grow revenue by 20-30 per cent a year and retain 20 per cent of profit. In order to increase revenue, instead of growing debt balance, the bank would focus on raising fees (expected to account for 50 per cent of the total revenue)," Anh said.
He added that Techcombank always focused on controlling credit growth from the central bank to ensure sustainable growth of the economy.
Anh said Techcombank was among the banks to have successfully resolved bad debt. All of its debts were sold to VAMC and totally resolved two years ago. It had also well controlled credit quality by its strict risk warning and management system.
With its profits listed in the top three banks in the country's banking system in 2018, Techcombank's shareholders agreed to continue to retain earnings to invest in creating growth momentum in the future.
Ho Hung Anh, the bank's chairman, said the bank wanted to retain profit to strengthen its equity and ensure the requirements of the central bank and Basel II are met.
At the meeting, shareholders also approved a plan to issue 10 million shares under the Employee Stock Ownership Plan (ESOP) programme at a price of VND10,000 to increase its charter capital to more than VND35 trillion.
The bank said it would focus on growth contributed by service fees thank to implementing a modern banking transaction system for corporate customers and improving their experiences through online payments and life insurance products.
In addition, it would develop new solutions in house lending, car lending, credit and payments to meet increasing demands of customers.
Anh added the bank would start construction of two new buildings on Ly Thuong Kiet Street (Ha Noi) and Le Duan (HCM City) this year. The two buildings are expected to become operational in 2021.
Ho Hung Anh was re-elected to the position of chairman of Techcombank's board of directors for the third consecutive term.
Other members include Nguyen Dang Quang, Nguyen Thieu Quang Nguyen Canh Son, Do Tuan Anh, Lee Boon Huat, Saurabh Narayan Agarwal and Nguyen Nhan Nghia.
The new management board would continue to implement its customer-centric strategy, invest in technology to develop a digital foundation and big data while improving risk management to reach high ratings with prestigious ratings organisations.
Source: Bizhub.vn