US firms hail Vietnam's reforms
Friday, April 12,2019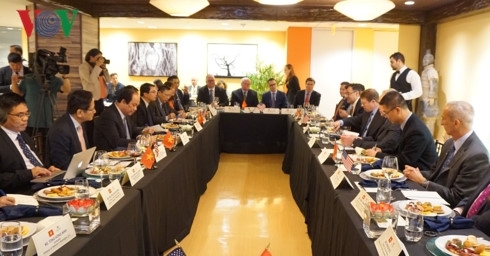 AsemconnectVietnam - A number of US-based corporations have shown their pleasure at Vietnam's increasing administrative reforms which helped to make it an increasingly attractive destination with an expected upward path of investment inflows.
The US firms made the comments during round-table talks on April 10 with Mai Tien Dung, Minister-Chairman of the Vietnamese Government Office, during his working visit to the US.
Representatives from US giants, including Google, AIG, Asia Pacific, and VISA took a big interest in gaining insights into the current investment climate of Asian countries, including Vietnam. They said they wish to update the country's development blueprint in order to outline their further co-operation with partners in the nation.
Chairman Dung briefed the US firms on some of the economic highlights Vietnam made during 2018, with GDP growth hitting 7.08 per cent, the peak level over the past decade. He stressed the fact that the Vietnamese government has fulfilled all 12 targets set for 2018; of which, 9 were above expectations.
He asserted that bilateral relations between Vietnam and the US have been thriving in the past time while hailing the practical and comprehensive progress in bilateral ties.
This can be clearly seen in bilateral trade turnover that soared by 18 per cent on year to US$60.2 billion during 2018, he cited.
The Vietnamese official stressed that the Vietnamese Government has created many favorable conditions for US firms operating in Vietnam. Most notably, the Prime Minister has given his approval to amendments for an investment permit to the US investor's Ho Tram project in the southern province of Ba Ria - Vung Tau.
The Government leader has also allowed the Warburg Pincus private equity firm to get involved in an investment project advocated by billionaire Philip Falcone's private hedge fund - Harbinger Capital Partners.
Furthermore, the power firm AES Corporation has received approval from the Prime Minister to make investments in the Son My liquefied natural gas (LNG) complex of gasification terminal and power plant in the central province of Binh Thuan.
Kurt M. Campbell, Chairman and CEO of The Asia Group LLC, expressed his praise for the US visit by Chairman Dung and his entourage. He affirmed that his company and its partners are eagerly seeking an in-depth understanding about business environment and future investment opportunities in Vietnam.
Source: Vov.vn