Factory processing export coffee opens in Sơn La
Saturday, November 10,2018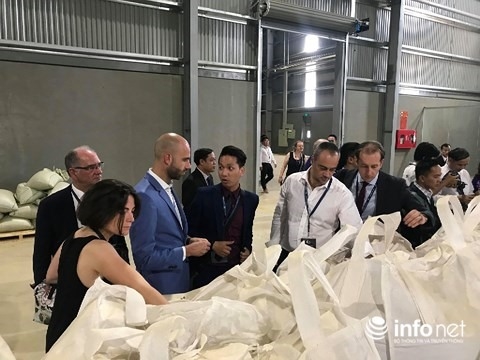 AsemconnectVietnam - Phuc Sinh Group started operations at the Phuc Sinh Son La coffee processing factory in Son La Province on November 8 to serve domestic and foreign markets.
This is Phuc Sinh's sixth coffee processing factory in Viet Nam. The factory is located in Ban Mat, Mai Son District on a total area of 45 hectares. The first phase was completed after eight months of construction with an investment of about VND100 billion (US$4.3 million) and with an annual processing capacity of 20,000 tonnes of fresh coffee beans.
It is the first coffee processing factory that meets BRC (British Retail Consortium) global standards to be developed in Son La, although the province is one of the three largest Arabica coffee growing areas in Viet Nam. The province also has the first coffee farm to meet the UTZ coffee standards.
Phuc Sinh factory has Colombian modern washed coffee processing technology to process coffee for export to the key markets of the US, Brazil, France, Switzerland and Italy, as well as for domestic consumption.
Hoang Van Chat, Secretary of the Son La Provincial Party Committee, said Son La has nearly 18,000 hectares of agricultural land growing Arabica coffee, with an annual output of about 60,000 tonnes of coffee beans.
The Son La Phuc Sinh Coffee Factory can process about 15 per cent of the province's coffee output, and will help the province send its coffee products to more international markets through Phuc Sinh's distribution system and foreign partners.
Chat said it will also serve to attract more investors in agricultural processing to the province.
Phan Minh Thong, chairman of Phuc Sinh Group, said the firm will work with the province to raise the value of the coffee it produces by building trademarks of Blue Son La for the province's coffee products.
Phuc Sinh exports about 20,000 tonnes of coffee per year, earning $350 million. It also holds about 6 per cent of the world's pepper export market.
Source: Vov.vn