Kazakhstan expects greater Vietnamese investment in local garment sector
Thursday, September 5,2019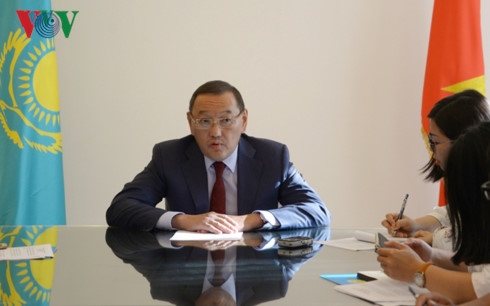 AsemconnectVietnam - The newly-accredited ambassador of the Republic of Kazakhstan to Vietnam, Yerlan Baizhanov, has pledged special incentives to Vietnamese garment firms looking to invest in his country.
Ambassador Baizhanov held a meeting with the press in Hanoi on September 3, calling on Vietnam's garment enterprises to inject more money into Kazakhstan.
The Central Asian country pledged optimal conditions for Vietnamese businesses that are seeking to invest in the Kazakhstani apparel sector, he said.
During the meeting, the Kazakh diplomat noted that Kazakhstan produces large quantities of raw cotton, leather, and fur products, which are used for export as opposed to serving the Central Asian country's own domestic demand.
According to the Ambassador, Kazakhstan's garment industry only meets 7 per cent of domestic demand with the country importing up to 93 per cent of clothing products, largely from markets such as China, Turkey, and western Europe.
Baizhanov said Kazakh people wish to use the clothes produced in their homeland, noting that his nation wants Vietnamese firms to invest in the garment field as the Southeast Asian country enjoys many advantages in the garment industry.
The Ambassador pointed out that Vietnam is widely considered to be 'the garment workshop of the world ', particularly as Vietnamese goods are of high quality and low cost.
The Kazakh government will offer incentives to Vietnamese businesses seeking to invest in the apparel sector within Kazakhstan. Such incentives include exempting fees from land use, supplying electricity and water for garment workshops and factories, providing a five-year tax exemption, and refunding 30 per cent of the costs for investors.
Vietnamese businesses will be able to dispatch their own workers to areas where Kazakh labourers have not yet met the necessary requirements, he said.
With regard to the salary of the workers, the Ambassador revealed that the average wage of workers in Kazakhstan is triple that of labourers in Vietnam.
Regarding foreign investment in Kazakhstan, Baizhanov said Chinese garment businesses only desire to sell their products directly, as opposed to investing and looking to produce clothing products within Kazakhstan. This has therefore created a window of opportunity for Vietnamese investors.
The diplomat said that in addition to garments and textiles, Kazakhstan also imports mobile phones and computers from Vietnam, adding that the Central Asian country is hoping to diversify its imported goods from the Southeast Asian nation in addition to increasing the quantity of imported commodities.
The Ambassador said that despite a significant geographical distance, Vietnamese goods can be transported through China by railway system as Kazakhstan is a participant of the "Belt and Road" project.
He expressed a desire that businesses from both countries accelerate their investment and trade activities in the future. The Central Asian nation has been impressed by Vietnam's economic growth rate. Furthermore, they wish to learn from Vietnam's experience in sectors of its strength.
Vietnam-Kazakhstan diplomatic ties were established in 1992 with notable landmarks in 2008 when Vietnam opened an embassy in the Kazakh capital of Astana and and Kazakhstan inaugurated its embassy in the capital city of Hanoi in 2003.
With regard to foreign policies, Ambassador Baizhanov states that both nations share several similarities, as they have maintained a good relationship with global powers and neighbouring countries.
The Ambassador highlighted the fine relationship that exists between the legislatures and the ruling parties of the two countries.
During the September 3 press briefing, he also announced that a delegation of the Communist Party of Vietnam (CPV) led by Vo Van Thuong, Politburo member, Secretary of the CPV Central Committee and head of the CPV Central Committee's Commission for Information and Education is due to make a visit to Kazakhstan this month.

Source: vov.vn