Vietnam, The Gambia to expand economic-trade cooperation
Friday, April 19,2019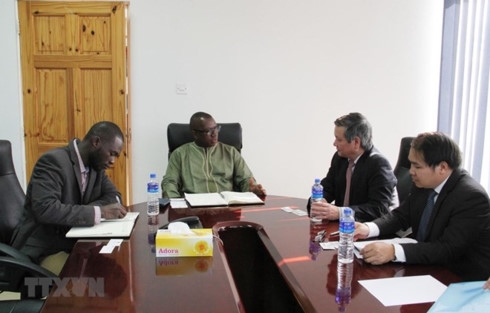 AsemconnectVietnam - Vietnam attaches importance to developing multi-faceted relations and cooperation with The Gambia, especially in areas both countries are interested in, according to Vietnamese Ambassador to The Gambia Pham Quoc Tru.
The diplomat made the affirmation during a working session with Minister of Trade, Industry, Regional Integration and Employment of The Gambia Lamin Jobe on April 17 as part of activities in his visit to present credentials to the President of The Gambia.

Ambassador Tru said the two countries should soon sign several important agreements to create favourable legal frameworks for bilateral cooperation, as well as strengthen exchange of delegations.

The two sides agreed that although economic and trade cooperation between Vietnam and The Gambia has developed positively, it is still modest and below potential.

They attributed this situation to a lack of market information, geographical distance and a lack of favourable laws for bilateral cooperation and promotion activities in each country.

The officials underlined the need for the two countries to perfect legal frameworks and enhance sharing of information and trade promotion, investment and tourism activities, and encourage their enterprises to expand cooperation and investment in fields like agriculture, exploitation and processing of aquatic products.

Jobe spoke highly of Vietnam's economic development achievements in recent years, expressing his hope that Vietnam will share its experience with The Gambia and support the West African country's development, especially in agriculture and aquaculture.

He suggested the Vietnamese Government encourage enterprises to invest into the African nation's market.

The same day, Ambassador Tru had a working session with representatives from The Gambia Chamber of Commerce and Industry (GCCI), during which the two sides agreed to strengthen cooperation, share information and to encourage businesses of both countries to seek investment and trade opportunities in each other's markets.

They proposed some recommendations to promote bilateral trade, stressing that the Vietnam Chamber of Commerce and Industry (VCCI) and the GCCI should sign an agreement on sharing information, experience and supporting businesses of the two countries in each other's market.

Vietnamese and Gambian businesses were advised to connect with embassies and commercial offices as well as trade promotion agencies of the two countries to seek information and investment opportunities.

Addressing the session, Vietnamese Commercial Counsellor Hoang Duc Nhuan detailed Vietnam's trade and economic development in recent times, strong areas that the two sides can foster investment cooperation and introduced Vietnam's prestigious export firms.

He stressed that the Vietnamese Commercial Office in Algeria and The Gambia is ready to coordinate with the GCCI to share market information and support businesses of the two countries.

Director of the GCCI Alieu Secka said his agency is willing to set up relations with the VCCI and work with the Vietnamese side to push cooperation between the two countries' enterprises.

Two-way trade between Vietnam and The Gambia in 2017 reached 24 million USD. The figure dropped to only 11 million USD in 2018 because Vietnam reduced import of raw cashew nuts from The Gambia.

Source: vov.vn