Vietnam, Czech Republic work to foster stronger partnership
Thursday, April 18,2019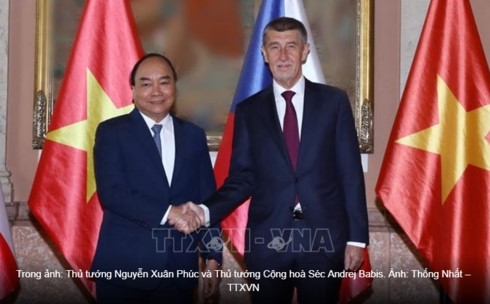 AsemconnectVietnam - Prime Minister Nguyen Xuan Phuc and his Czech counterpart Andrej Babis examined ways to augment bilateral cooperation across a variety of fields, particularly in education-training, agriculture, science-technology, the environment, and culture-tourism during their talks in Prague on April 17.
PM Babis consented to urge the EU early finalization of the signing of the EU-Vietnam Free Trade Agreement (EVFTA) and the EU-Vietnam Investment Protection Agreement (EVIPA) in the next one or two months.
The Czech Republic and Vietnam have maintained a close partnership over nearly seven decades with regular delegation exchanges. The Vietnamese community in the Czech Republic has made significant contributions to the socio-economic development in the host country, he said.
The Czech PM applauded the traditional relationship and fruitful cooperation between the two countries with two-way trade totaling more than US$1 billion and Vietnam being the Czech Republic's 3rd largest trade partner in ASEAN.
He also hailed the positive development in bilateral cooperation across trade, investment, and many other fields. The Czech Republic's exports to Vietnam have surged 30% over recent years, he noted, adding that Czech businesses desire to boost the export of goods to Vietnam.
At the talks, the two government leaders also discussed a host of promising cooperation areas, such as mining, tourism, aviation, and culture-education, as well as visa-related issues.
They underscored the importance of peace, security, navigation and aviation safety and freedom in the East Sea while settling disputes by peaceful means in line with international law, especially the UN Charter and the 1982 UN Convention on the Law of the Sea (UNCLOS).
PM Phuc, in turn, revealed that during their talks, the two sides agreed upon a number of solutions to improve the efficiency of future bilateral cooperation.
Vietnam greatly values the Czech Republic's support to the early signing and ratification of the EVFTA and the EU-Vietnam Investment Protection Agreement (EVIPA).
The deals are of strategic significance for stronger economic-trade cooperation between the EU and Vietnam, helping businesses from the EU and the Czech Republic gain entry into the over 90-million-strong market and providing optimal conditions for affiliation in services, finance, telecommunications, and public procurement, he said.
The EVFTA will help bolster the role of the EU in Asia, he said, adding that Vietnam will serve as a gateway for Czech enterprises to achieve greater ASEAN and East Asia market penetration.
PM Phuc thanked the Government of the Czech Republic for supporting the country's Vietnamese community in their integration into the local society, expressing his confidence that the community will continue helping to reinforce friendship and affiliation between the two countries.
After the talks, the two PMs witnessed the signing of memorandums of understanding for cooperation in mining, and measurement standards and quality.
PM Phuc told the press, "Vietnam appreciates the Czech Republic's support for the EU's early signing and ratification of the EU-Vietnam Free Trade Agreement and Investment Protection Agreement before the EU Parliament election. Those agreements are strategically important for trade between Vietnam and the EU, facilitating the Czech businesses' penetration into a market of 90 million people as well as cooperation in finance and banking, telecoms and public procurement."

Source: vov.vn