PM Phuc rejoices in sound Vietnam-Germany relations
Tuesday, April 9,2019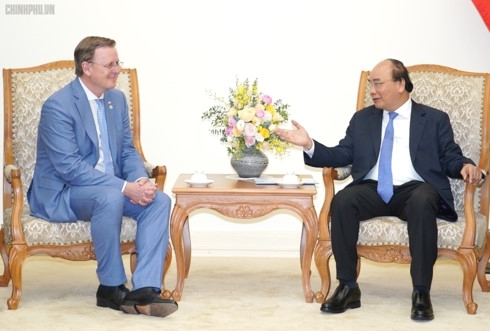 AsemconnectVietnam - Prime Minister Nguyen Xuan Phuc expressed his elation at the positive developments in Vietnam-Germany relations at a reception for Minister-President of Thüringen Bodo Ramelow in Hanoi on April 8.
The government leader said he hopes the eastern German federal state of Thüringen would serve as a bridge for Vietnamese businesses to broaden their cooperation and business in Germany and Europe.
The cooperation between the sides will make practical contributions to the implementation of the European Union-Vietnam Free Trade Agreement (EVFTA), PM Phuc said while hailing the visit by Bodo Ramelow and his accompany of representatives from 70 businesses.
He voiced his hope that the visit would open a new space for investment and cooperation between the two nations in multiple fields.
The cabinet leader affirmed the Vietnamese Government's willingness to provide information and discuss arising problems with German businesses and investors to help them feel secure doing business in Vietnam.
He said he expects bilateral cooperation would see further development as a result of the establishment of strategic partnership, the signing of economic agreements, the launch of a direct flight route, and the German-speaking community in Vietnam and the Vietnamese community in Germany.
He asked the German official to help encourage businesses of Thüringen and Germany to pour more investments in Vietnam.
Minister-President of Thüringen Bodo Ramelow said during the visit, he and his delegation had a working session with Hanoi, participated in seminars, and worked with the Ministry of Science and Technology on training partnership between universities.
He also touched upon his state's socio-economic achievements after 30 years of reforms and possibilities of sharing experience in developing small and medium-sized enterprises and cooperating in vocational training by Thüringen businesses.

Source: vov.vn